Tool Talk Discussion Board
Re: chainsaw or drill bit sharpening - pics
---
[ Expand ] [ View Replies ] [ Add a Reply ] [ Return to Forum ]
---
Posted by Billy NY on September 04, 2012 at 07:53:50 from (67.248.100.3):
In Reply to: chainsaw or drill bit sharpening - pics posted by SweetFeet on September 04, 2012 at 07:09:53:
I'm just curious, don't mind me LOL, but how in heck does he maintain the correct angle on the cutter of the saw chain, and how does he control how much material it takes off, meaning like when you file, you count the strokes to insure each cutter gets the same amount taken off and each cutter is even in size ? I have not used a saw chain sharpener machine, just a clamp on bar file guide, Stihl mind you, great for most jobs until you need the machine to true up the cutters, take it to the saw shop for that, towards the end of the life of the chain I usually end up uneven, won't cut straight in large diameter logs.
Just whats shown in the photo looks like you freehand whats to be sharpened, he must have a guide or jig or something. Any of those grinding/spinning wheels can be extremely dangerous if they were to come apart, you have to be careful on RPMS and make sure whatever is spinning is held together but good, especially if you are modifying things, that guard is well short of the wheel, it comes apart there is nothing between you and it. I have an old motor fit up for the purpose of grinding, still attached to the bench in was on in our old ford tractor dealership, in the shop. It has no guard on it at all, not sure of the HP but its overkill, you can't stop it by hand, lots of torque, the motor has oil tubes to lube it like the old Bell & Gosset circulators on hot water heat boiler systems, if a wheel ever shattered off it, be like a grenade going off, needless to say I don't use it anymore and won't until I fabricate an appropriate shield for it.
Most likely he's well aware, and maybe you have more shots of guides, jigs or shields, but if not, the most important aspect of my comments is safety, even if redundant or out of place LOL, see below:

A bit GRAPHIC, even if photo-shopped, and I don't recall where I saved this from, but it still gets the point across about flying pieces and flesh!
When I held safety meetings for my crews, photos like these drive the point home, a lot more than words LOL !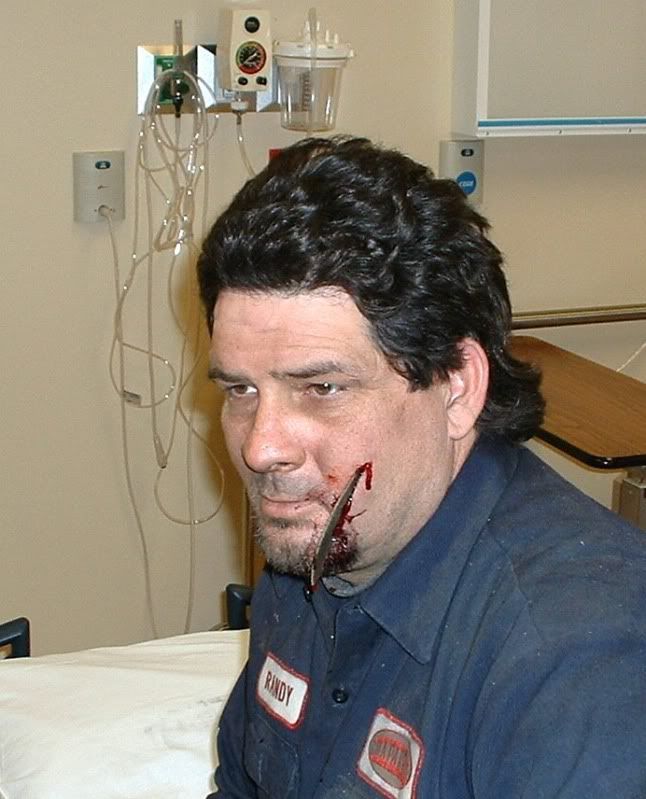 ---
---
Fast Shipping! Most of our stocked parts ship within 24 hours (M-Th). Expedited shipping available, just call! Most prices for parts and manuals are below our competitors. Compare our super low shipping rates! We have the parts you need to repair your tractor. We are a company you can trust and have generous return policies. Shop Online Today or call our friendly sales staff toll free (800) 853-2651. [ About Us ]
Home | Forums
Copyright © 1997-2018 Yesterday's Tractor Co.


All Rights Reserved. Reproduction of any part of this website, including design and content, without written permission is strictly prohibited. Trade Marks and Trade Names contained and used in this Website are those of others, and are used in this Website in a descriptive sense to refer to the products of others. Use of this Web site constitutes acceptance of our User Agreement and Privacy Policy

TRADEMARK DISCLAIMER: Tradenames and Trademarks referred to within Yesterday's Tractor Co. products and within the Yesterday's Tractor Co. websites are the property of their respective trademark holders. None of these trademark holders are affiliated with Yesterday's Tractor Co., our products, or our website nor are we sponsored by them. John Deere and its logos are the registered trademarks of the John Deere Corporation. Agco, Agco Allis, White, Massey Ferguson and their logos are the registered trademarks of AGCO Corporation. Case, Case-IH, Farmall, International Harvester, New Holland and their logos are registered trademarks of CNH Global N.V.

Yesterday's Tractors - Antique Tractor Headquarters