Harry Ferguson Tractors Discussion Board
Hey Inno! what was Stew Giffin's evil twin???
---
[ Expand ] [ View Replies ] [ Add a Reply ] [ Return to Forum ]
---
Posted by Tony in Mass. on June 18, 2013 at 18:39:25 from (76.127.225.182):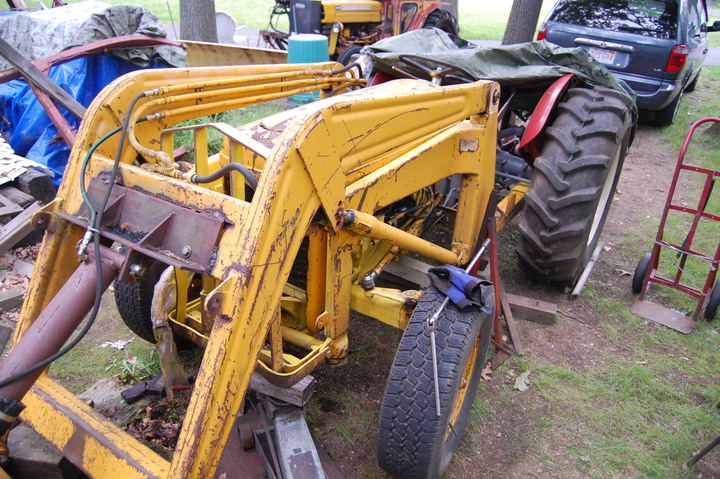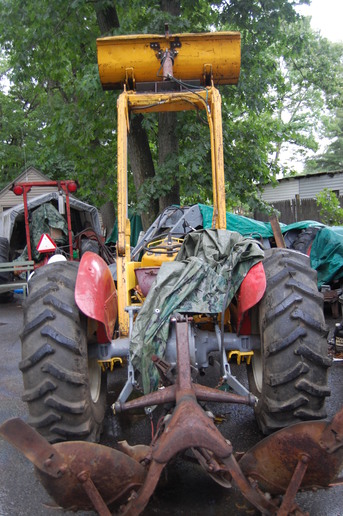 That's what I will name this so and so...
Your tractor's new 'arch nemesis'???... did I spell that right?
What a pain! I THOUGHT I had all the bugs out BEFORE the loader went back on... and that was a horror show in itself... then... cause it was dead junk for years before I took it home, hydro fitting leaks and breaks, goofy undersized hoses, took all of the stash of fluid I had socked away... but it started to work. The bucket is a hacked up mess I will have to pump money into... but that ain't the best! Remember when my manifold was almost as broke as yours? And I intended to braze a stub of pipe on there and just clamp cheap exhaust systems on there from now on.. forget to do the brazing job... one 1/4 bolt is already off and another loose... and what an interesting welding job it will be now eh? AND... after doing all sorts of odd jobs since the rebuild... the points decide to close up a day AFTER the loader is now in the way...
Last night someone on my radio show was on about cyborg human/ animal/ machine hybrids of the future... today, I wish I had 3 octopus arms, no bones, just muscle to turn wrenches in impossible spots, and eyes like my orthoscopic camera thing from autozone... for those hidden spots to be welded with the octopus arms.... I wonder what ever happened to flight leftenent Jay Murphy, of army air force base Roswell??? I need to speak to him ...in a dark alley....


---
---
Fast Shipping! Most of our stocked parts ship within 24 hours (M-Th). Expedited shipping available, just call! Most prices for parts and manuals are below our competitors. Compare our super low shipping rates! We have the parts you need to repair your tractor. We are a company you can trust and have generous return policies. Shop Online Today or call our friendly sales staff toll free (800) 853-2651. [ About Us ]
Home | Forums
Copyright © 1997-2016 Yesterday's Tractor Co.


All Rights Reserved. Reproduction of any part of this website, including design and content, without written permission is strictly prohibited. Trade Marks and Trade Names contained and used in this Website are those of others, and are used in this Website in a descriptive sense to refer to the products of others. Use of this Web site constitutes acceptance of our User Agreement and Privacy Policy

TRADEMARK DISCLAIMER: Tradenames and Trademarks referred to within Yesterday's Tractor Co. products and within the Yesterday's Tractor Co. websites are the property of their respective trademark holders. None of these trademark holders are affiliated with Yesterday's Tractor Co., our products, or our website nor are we sponsored by them. John Deere and its logos are the registered trademarks of the John Deere Corporation. Agco, Agco Allis, White, Massey Ferguson and their logos are the registered trademarks of AGCO Corporation. Case, Case-IH, Farmall, International Harvester, New Holland and their logos are registered trademarks of CNH Global N.V.

Yesterday's Tractors - Antique Tractor Headquarters