Farmall & IHC Tractors Discussion Board
F-20 at the Plow Day
---
[ Expand ] [ View Replies ] [ Add a Reply ] [ Return to Forum ]
---
Posted by Brian Schmidt on October 13, 2013 at 19:14:33 from (69.66.237.150):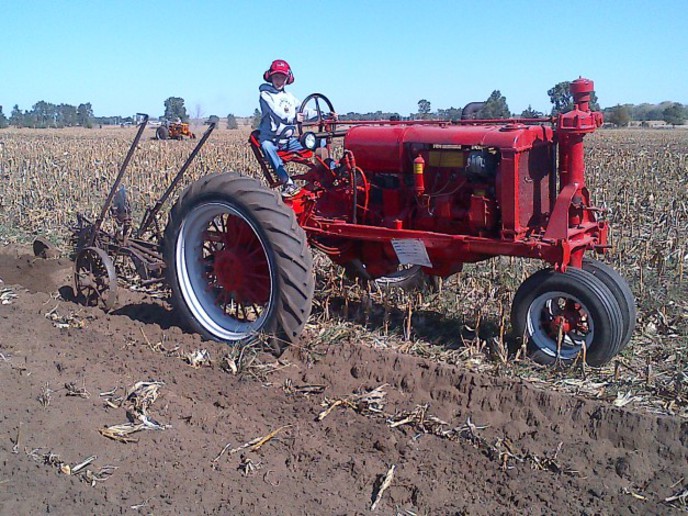 Our local farm show grounds had a fall plow day yesterday. My 8 year old son got excited when I offered to take him and his F-20 to go plowing.
I actually bought this tractor a couple years ago to turn a few bucks on. We ended up not selling it cause my son really likes this style tractor. The gas tank was full of rust, so we cleaned that out last fall and installed a liner.
This tractor never pulls anything but my boy tooling around on the farm. When we hooked it to the two bottom Little Genius, it ran well for about the first 50 yards then it would fall on it's face. My boy was really disappointed. At the end of the row it would be fine again. So fuel flow for sure.
We headed back to the truck for a farm field carb rebuild. Pulled the screen off and cleaned the rust out. Then pulled the bowl off and cleaned it out. Pulled the needle out and let gas flow through it to clear it out. Put it all back together and headed back to the field.
We made it the rest of the day in third gear with her barking very sweetly. Everyone there was amazed how well she ran in such short order.
My son was ear to ear grins all day as he steered for me. In fact when we got to the truck at the end of the day, he had dirt stuck on his front teeth cause he wouldn't quit smiling all day.


---
---
Fast Shipping! Most of our stocked parts ship within 24 hours (M-Th). Expedited shipping available, just call! Most prices for parts and manuals are below our competitors. Compare our super low shipping rates! We have the parts you need to repair your tractor. We are a company you can trust and have generous return policies. Shop Online Today or call our friendly sales staff toll free (800) 853-2651. [ About Us ]
Home | Forums
Copyright © 1997-2016 Yesterday's Tractor Co.


All Rights Reserved. Reproduction of any part of this website, including design and content, without written permission is strictly prohibited. Trade Marks and Trade Names contained and used in this Website are those of others, and are used in this Website in a descriptive sense to refer to the products of others. Use of this Web site constitutes acceptance of our User Agreement and Privacy Policy

TRADEMARK DISCLAIMER: Tradenames and Trademarks referred to within Yesterday's Tractor Co. products and within the Yesterday's Tractor Co. websites are the property of their respective trademark holders. None of these trademark holders are affiliated with Yesterday's Tractor Co., our products, or our website nor are we sponsored by them. John Deere and its logos are the registered trademarks of the John Deere Corporation. Agco, Agco Allis, White, Massey Ferguson and their logos are the registered trademarks of AGCO Corporation. Case, Case-IH, Farmall, International Harvester, New Holland and their logos are registered trademarks of CNH Global N.V.

Yesterday's Tractors - Antique Tractor Headquarters