Case Tractors Discussion Board
Re: 1 of My Favorite CASE
---
[ Expand ] [ View Replies ] [ Add a Reply ] [ Return to Forum ]
---
Posted by Moline_guy on November 03, 2012 at 14:42:15 from (216.106.218.130):
In Reply to: 1 of My Favorite CASE posted by 1370rod on November 03, 2012 at 05:52:43: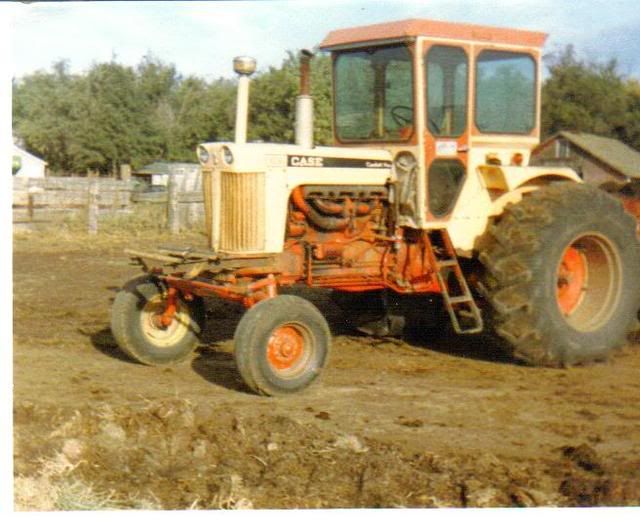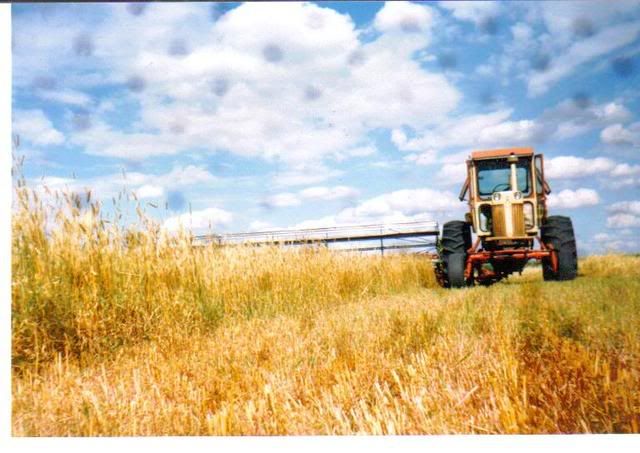 My Mom's dad was a die hard case man and my Dads dad was a die hard deere man. I have always been around cases, and they are a heavy built, get the job done kind of a tractor. When I was a little kid my dad had a homemade cab on his 900 case, spent a lot of time sitting on that big orange fender looking down the side of that 900. When I was 9 got to go to the field on my own with the 900 case and 5 bottom deere plow and pony. That fall I got to do tillage with the vista G1000 MM, that was my dads big field tractor. The 900's engine was burning oil and was getting worn and that fall while spreading manure the rear axle broke. Dad decided not to fix it and we parted it out to a few neighbors to keep there 930's up and runnning. The next spring dad bought this 1030 case. From then on I was usually in the 1030 and dad would be in the G1000. I spent a lot of time pulling a 14' chisel, mowing hay, baling with an 851 baler and bunching bales, swathing, planting corn and cultivating. Used it for pushing up silage, combining and hauling manure and feeding cows and grinding feed. Just a good all around handy tractor, and although it was a bit cold blooded to start, it was easy on fuel and a joy to operate. I still have it in one of my sheds, but it has a bit of a knock so we don't use it anymore. It is still in good shape otherwise and one of these winters we need to tear into it and see what is going on. Dad still has a 400, 970, 1370 and 4890, but I would have to go with the 1030 as an all time favarite case because it is the one I had the most seat time and just good memories with.


---
---
Fast Shipping! Most of our stocked parts ship within 24 hours (M-Th). Expedited shipping available, just call! Most prices for parts and manuals are below our competitors. Compare our super low shipping rates! We have the parts you need to repair your tractor. We are a company you can trust and have generous return policies. Shop Online Today or call our friendly sales staff toll free (800) 853-2651. [ About Us ]
Home | Forums
Copyright © 1997-2016 Yesterday's Tractor Co.


All Rights Reserved. Reproduction of any part of this website, including design and content, without written permission is strictly prohibited. Trade Marks and Trade Names contained and used in this Website are those of others, and are used in this Website in a descriptive sense to refer to the products of others. Use of this Web site constitutes acceptance of our User Agreement and Privacy Policy

TRADEMARK DISCLAIMER: Tradenames and Trademarks referred to within Yesterday's Tractor Co. products and within the Yesterday's Tractor Co. websites are the property of their respective trademark holders. None of these trademark holders are affiliated with Yesterday's Tractor Co., our products, or our website nor are we sponsored by them. John Deere and its logos are the registered trademarks of the John Deere Corporation. Agco, Agco Allis, White, Massey Ferguson and their logos are the registered trademarks of AGCO Corporation. Case, Case-IH, Farmall, International Harvester, New Holland and their logos are registered trademarks of CNH Global N.V.

Yesterday's Tractors - Antique Tractor Headquarters