Silver King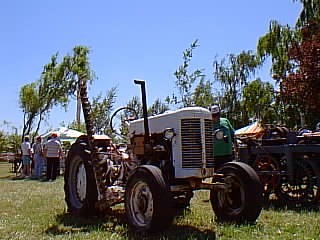 A Brief History
Silver King tractors were produced by the Fate-Root-Heath Company of Plymouth, Ohio. The company was founded by John Fate in 1884 and was originally called the "J.D. Fate Company". After several mergers over the years, the final company name of Fate-Root-Heath came about in 1919. The first tractor produced was actually called the "Plymouth" tractor and was powered by a 20 HP 4-cylinder engine with a 3x4" bore and stroke. The four speed transmission had a top speed of 25 mph! After more than 200 of these were built, the Chrysler Corporation who had begun making a "Plymouth" car sued the Fate-Root-Heath company for the right to use the "Plymouth" name. It was decided that since the Chrysler Corporation manufactured their car MANY years after Fate-Root-Heath made their tractor, that Chrysler Corp was not entitled to the exclusive use of the "Plymouth" name. To make a long story short, Fate-Root-Heath did not want to tangle with such a large corporation and hence sold the "Plymouth" name to Chrysler Corp for a single dollar bill!
I find this all very fascinating. The Plymouth Tractor obviously had to be renamed. The name "Silver King" was decided upon during a board meeting and according to one story, they felt it was the "King" of all tractors and there also happened to be a bouquet of silver plant leaves in the room which is how the final name came about.
Only 8600 or so Silver Kings were produced between the years of 1934 and 1954. Most were silver in color, although a few produced for the Ohio highway department were yellow or orange. Most of these tractors were used by farmers for general farm use. Supposedly they were the first tractors to use rubber tires.
Many different models were produced and we cannot find a complete list of them. Some of the models we have been able to dig up are: The 380, 400, 340, 600, 660 and the 720. Each model was just a little different from the other. Reportedly, one year 10 different models were made! The two main configuration differences were the 3-Wheel Row Crop (with a single front wheel) and the 4-Wheel Standard (with a wide front end).
---
The Silver King Today
Although only 8600 were made, we seem to see at least one of these at every major tractor show we attend. It is hard to estimate how many are actually be used on today's small farms. The yellow and orange versions are certainly very rare. The going value cannot be estimated at this time ... we have not seen too many for sale which means that the owners are holding on to them! Replacement parts are not easy to find and aren't sold by the larger parts stores due to their rarity. But as with most models of tractors, the tractor has it's own following. There is even an organization dedicated to the tractor, "Silver Kings of Yesteryear" with an address of 4520 Bullhead Road, Willard OH 44890. This organization should be able to provide info on where to get parts and additional information on the models and their history.
---
The Specs
The specifications varied with each different member of the series. What follows is the specification for Model 600, 660 and 720.
Air Cleaner: Donaldson, oil bath
Carburetor: Schebler, 1 inch
Clutch: Borg & Beck, single dry plate.
Governor: Pierce, centrifugal
Ignition: Wico, high tension magneto
Spark Plugs: 18 mm.
Starter: Delco-Remy
Engine: Own, No. 41; 3.438 x 4.375, 1,500-1,800 rpm, 4-cyl, vertical, L-head, cast en bloc; non-removable sleeves
Pulley: 8 x 6-1/2, 1,500 - 1,800 rpm and 3,150-3,780 fpm at normal engine speed
Speed: MPH forward 2, 3.3, 4.6 and 25; 1.5 reverse
---
Nebraska Tractor Test Results
TEST NO. 250
Model: Silver King 3-Wheel
Fate-Root-Heath Co., Plymouth, Ohio
DATE TESTED: March 23 to April 20, 1936
Test D for rated brake horsepower indicated a fuel economy of 8.42 horsepower hours per gallon of gasoline while cranking out 17.35 horsepower. At 100% maximum load of 19.74 horsepower fuel economy remained virtually identical. Two sets of drawbar tests were run - first with steel wheels, and then with rubber tires. Using steel, Test H for rated drawbar load gave an output of 10.51 horsepower, an economy of 5.46 horsepower hours per gallon, and a pull of 1,045 pounds at 3.77 mph. The company equipped this tractor with four speeds of 2.25, 3.35, 5.5 and 14.5, with the latter speed ranging up to 25 mph, depending upon engine speed. Fourth gear was definitely not recommended for tractors with steel wheels! A fuel economy test run in third gear indicated fuel efficiency of 4.37 horsepower hours per gallon on steel wheels, compared to 7.41 on rubber tires. Standard equipment included a Hercules four-cylinder L-head engine. Rated at 1,400 rpm, it carried a 3-1/4 x 4 inch bore and stroke. Accessory items included a Fairbanks-Morse RV-4 magneto, Zenith 193 1/2 carburetor, Borg and Beck clutch, Hercules governor, and Air-Maze air cleaner. During the preliminary tests the motor overheated since the radiator core was painted aluminum and had no shroud. An unpainted radiator and addition of a shroud solved the problem.
---
Serial Numbers (All Models)
Serial Numbers (From 1934 to 1954)
Year
Starting Serial Number
1934
0
1935
326
1936
1001
1937
1986
1938
3025
1939
3876
1940
4245
1941
4906
1942
5256
1943
5594
1944
5710
1945
6161
1946
6449
1947
6947
1948
7475
1949
8245
1950
8395
1951
8545
1952
8627
1953
8708
1954
8717







Home | Forums





Today's Featured Article - Earthmaster Project Progress Just a little update on my Earthmaster......it's back from the dead! I pulled the head, and soaked the stuck valves with mystery oil overnight, re-installed the head, and bingo, the compression returned. But alas, my carb foiled me again, it would fire a second then flood out. After numerous dead ends for a replacement carb, I went to work fixing mine.I soldered new floats on the float arm, they came from an old motorcycle carb, replaced the packing on the throttle shaft with o-rings, cut new ga ... [Read Article]

Latest Ad: JOHN DEERE L 22IN. REAR RIMS GOOD CONIDITION ASKING 925.00 [More Ads]



Copyright © 1997-2023 Yesterday's Tractor Co.


All Rights Reserved. Reproduction of any part of this website, including design and content, without written permission is strictly prohibited. Trade Marks and Trade Names contained and used in this Website are those of others, and are used in this Website in a descriptive sense to refer to the products of others. Use of this Web site constitutes acceptance of our User Agreement and Privacy Policy

TRADEMARK DISCLAIMER: Tradenames and Trademarks referred to within Yesterday's Tractor Co. products and within the Yesterday's Tractor Co. websites are the property of their respective trademark holders. None of these trademark holders are affiliated with Yesterday's Tractor Co., our products, or our website nor are we sponsored by them. John Deere and its logos are the registered trademarks of the John Deere Corporation. Agco, Agco Allis, White, Massey Ferguson and their logos are the registered trademarks of AGCO Corporation. Case, Case-IH, Farmall, International Harvester, New Holland and their logos are registered trademarks of CNH Global N.V.

Yesterday's Tractors - Antique Tractor Headquarters