Ford 9N, 2N & 8N Discussion Board
Re: FRONT MOUNT HYDRAULICS
---
[ Expand ] [ View Replies ] [ Add a Reply ] [ Return to Forum ]
---
Posted by dlplost on December 05, 2008 at 23:19:06 from (69.205.132.94):
In Reply to: FRONT MOUNT HYDRAULICS posted by BOBR WI on December 05, 2008 at 16:37:57: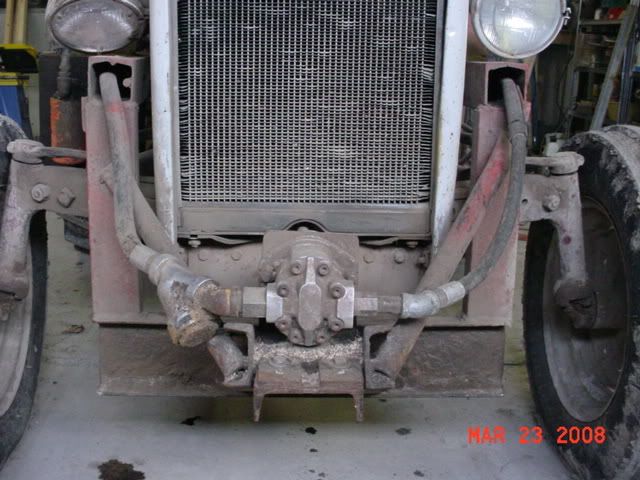 Four 3/8" bolts seen just below the radiator, attach the loader to the front of the tractor. Been like that for 25+ years, never had a problem with the front end.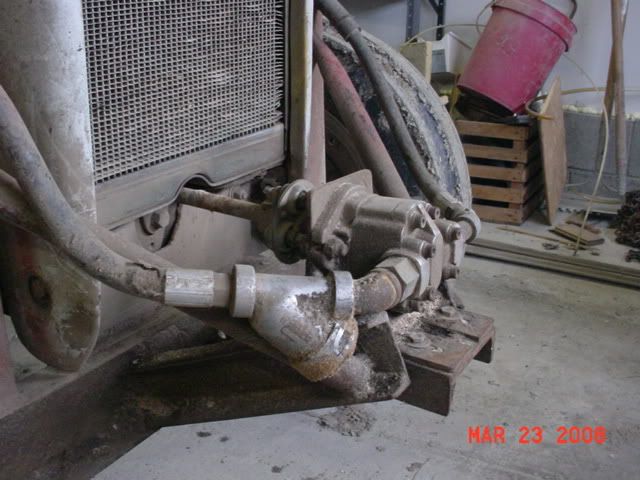 Pump mount is welded to the loader frame. Pump is 11 gpm from Northern Tool. Two 3/8" bolts just foreward of the pump go down thru slots in the mount to adjust for pump shaft length.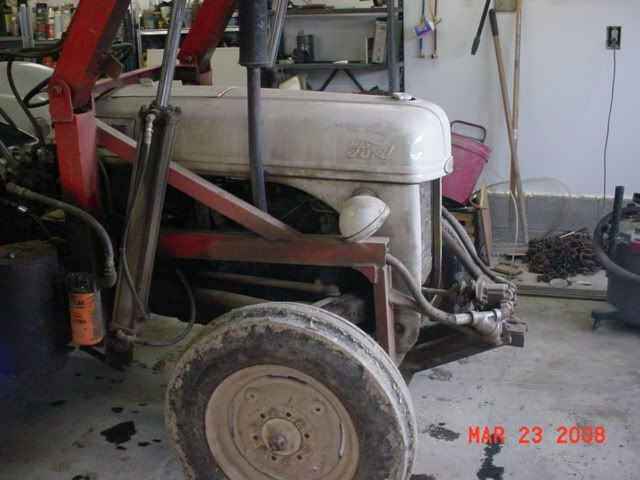 Pump alignment is critical. Shaft will wear out quickly if it hits on the axel pivot. Eventually (2-3 years) the shaft spline will wear out, as it is softer than the spline it goes into. I usually just cut about 3/4" off the end and adjust the pump mount in to compensate.

---
---



Home | Forums



Today's Featured Article - Talk of the Town: Trailerin a Tractor, Chains or Straps? - by Staff. Another great discussion from the Tractor Talk Discussion Forum. The discussion started out with the following post: " I bought a trailer and plan to take my CASE VAS to some shows. I don't yet have anything to secure it to the trailer. So which is better to buy and use; the ratchet-type straps or binders and binder chains? ... [Read Article]

Latest Ad: looking for a ford 8000 transmission and rear end [More Ads]



Copyright © 1997-2022 Yesterday's Tractor Co.


All Rights Reserved. Reproduction of any part of this website, including design and content, without written permission is strictly prohibited. Trade Marks and Trade Names contained and used in this Website are those of others, and are used in this Website in a descriptive sense to refer to the products of others. Use of this Web site constitutes acceptance of our User Agreement and Privacy Policy

TRADEMARK DISCLAIMER: Tradenames and Trademarks referred to within Yesterday's Tractor Co. products and within the Yesterday's Tractor Co. websites are the property of their respective trademark holders. None of these trademark holders are affiliated with Yesterday's Tractor Co., our products, or our website nor are we sponsored by them. John Deere and its logos are the registered trademarks of the John Deere Corporation. Agco, Agco Allis, White, Massey Ferguson and their logos are the registered trademarks of AGCO Corporation. Case, Case-IH, Farmall, International Harvester, New Holland and their logos are registered trademarks of CNH Global N.V.

Yesterday's Tractors - Antique Tractor Headquarters