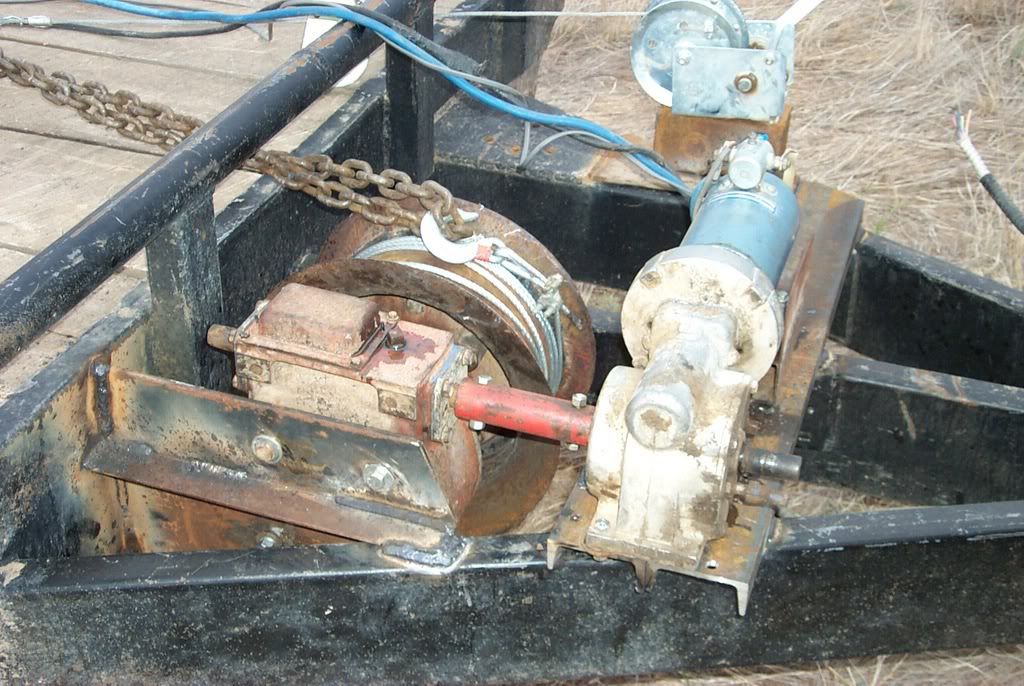 As heavy as you can afford or make!
I built this one for almost nothing out of old sprinkler parts. A 12 volt starter motor powers it. The drum turns about 15 RPM's per minute which is just about perfect.
I've loaded a WD-9 half buried in a sand dune with rear weights inside and rear weights sticking out a foot to the outside and it worked fine.
The trailer is a 24' triple axle and I picked up a GB Moline weighted to the gills with water in the rear tires - it raised the back of my pickup ('94 Ford 3/4 ton extended cab) about 8 inches off the ground as it first started up the rear of the trailer, but as i got the tractor centered over the trailer axles it let the pickup back down and the weight then distributed perfectly to drag it home.
Actually, I've never tied onto anything before that could say no to it. One time I the cable clamps that attach the chain to the cable got hung on the rear of the trailer - when I heard the cable "singing" as it popped as it moved the cable clamp slightly, I stopped and realized it was hung. It also bent the welded frame slightly that the gear box is mounted to, but it didn't stop the winch. Not sure what would have given first if I hadn't stopped.
I had one tractor that started rolling back on me with slack in the cable as I was unloading - it snapped the cable like a piece of yarn before I realized anything was wrong. But it didn't hurt the winch and the tractor just coasted to a stop unhurt a few feet behind the trailer.
The worm gear on the gear box acts as a lock if I need to pause for a minute - and it is a towable gearbox, so I just pull the tow pin to spin the cable out quickly to whatever I'm loading.
Howard