tburch
04-24-2015 22:54:39





Re: New member, and another 8N on its way back to life in reply to tburch, 04-24-2015 09:54:09
Thanks everyone.
I've been told her name is Bessy. We'll see if it fits.
The "grill mod" is just the grill leaning against the sheet metal, upside down. It wasn't attached when I picked it up. Does kinda looks like a gapped tooth woman though.

Howdy1960 - thanks for the pictures. I saw mine was leaded too, but I couldn't tell if that was factory or a previous owner's signature.
Yes, I have worked on a few engines before. Took auto mechanics back in high school (class of '80), and I can't recall how many engines I've rebuilt… maybe a dozen or more. Fords, Chevys and Chryslers. Replaced the rear seals in a 42' French sailboat once too. It's been a while since I've had any grease under my nails. At once time I was certified, when certification just starting to come about, back in '80-'81, for tune ups and electrical systems.
My plan for the tractor is mowing and driveway maintenance. I'm on about 6.6 acres and 2 of that might be woods. My plan is to get a flail mower. For the driveway, approx. 100 yards long, either a blade or a box blade. I think I might get more use out of the box blade though… not certain, 'cuz I'm new to this stuff.
I have restored several cars/trucks (done everything myself, including paint), and I do have a tendency to go overboard. However, right now, I'm biting my lips and forcing myself to NOT just start buying all the stuff I could buy to get this thing up to snuff. I want to run it and make sure it (it = this particular tractor) is worth it first.
Oh, and here are a couple more pics that didn't make it last post. My caramelized sediment bowl and the rusty rusty starter.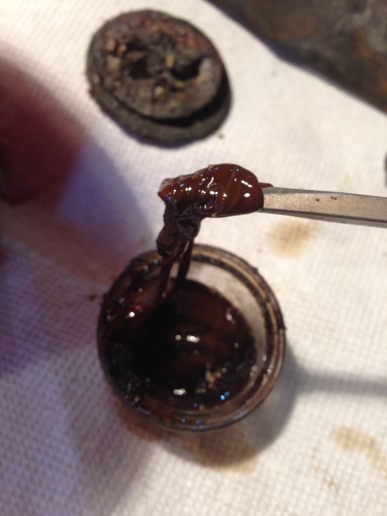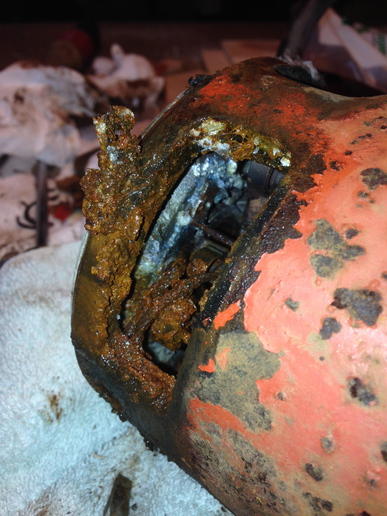 Todd