Early 1950 8N with front distributor. The throttle rod goes down into what they call a "lever assy", which connects to the rod to the governor.
The lever assy looks to be a clamp-fit to the throttle rod. Is this correct?
I think I need to adjust mine because the idle position has the lever hitting the battery box and it's impossible for the rod to move that far. The wide-open position doesn't pull the governor arm to its stop.
Thoughts? It appears to have been this way for a while, but since I'm in there... ;) I wanted to ask the experts before I tear it apart.
Throttle pushed all the way counter-clockwise: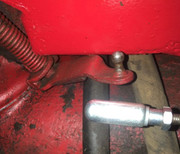 Throttle pushed all the way open to the stop on the quadrant and the governor lever pulled to its stop: