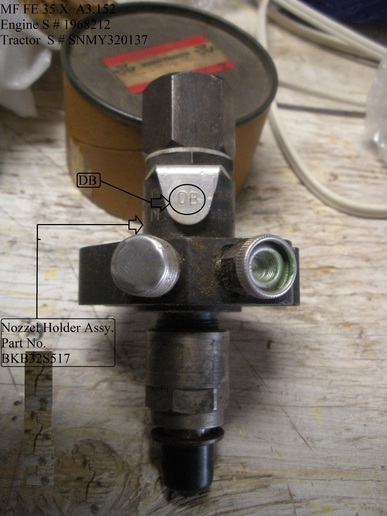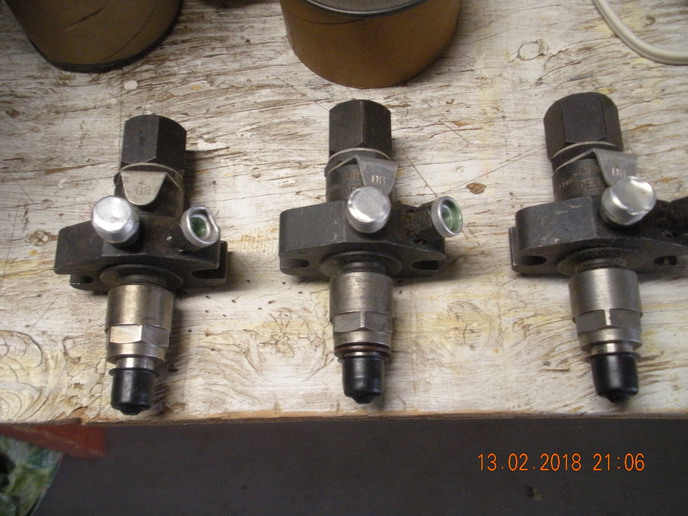 I own a MF FE 35 X that's been in my family since new...1963. All maintenance I have done myself. I know the FUEL PUMP and FUEL INJECTORS are ORIGINAL:
All to often someone has changed out a fuel injector and or a fuel pump, NOT REALISING the MF FE 35 X has different calibrated fuel components than the standard MF FE 35.
My own preference, I never swap fuel injectors that are not engineered to handle the volume and or pressure of the delivery pump.
I recently purchased three NOS fuel injectors for my MF FE 35 X...see pictures:
NOTE the "DB" Ident. on the Injector....this Injector is correct for the fuel pump on my MF FE 35 X. Also note the Indent. info on the Injector....BKB32S5127.....Pressure setting (PSI) NEW 1835...USED 1760....Hole Size (Inches)0.0157
AS I'm away from our summer residence I do not have the INFO / IDENT of the Fuel pump.
I had to remove FUEL TANK ...good time to set VALVES ..Intake.. Exhaust...and checked Torque cylinder head....also replaced Thermostat and to Rad hose:
Tappet setting HOT...0.010.....COLD...0.012
Cylinder Head...55>60 FT.LBS.
Info of two suppliers of fuel injectors as per below:

bkdiesel.com
Foley Engines Marine & Industrial Engine Products
200 Summer Street
Worcester, MA 01604

Bob.. Retired Power engineer. Owner operator MF FE 35 X and other colored Tractors...