I would 2nd what Ken said, this is a must do, now I'm no expert, plowing match exhibitor, guru etc., but I have done just what Ken said below, when the plow is not set up properly, you will fight with it.
Here is a good example and I can explain why. I first had a worn Harry Ferguson plow, shares were still useable but were getting close+ 1 coulter was missing. There was no tail wheel/gauge wheel, was broke off, and my level box ( lift arm crank handle on 3 pt) was seized, improperly adjusted, and at times this plow would suck in too deep want to stop the tractor, had even hooked a few stumps in a new food plot area, which did stop the tractor, in short it was a pain to plow with this thing and I needed to regardless.
Its obvious some things are wrong(coulter depth!) here,(adjustment/plow missing things) and I knew that at the time, but being busy, I did fool with it a bit and this patch was plowed dicc'd 2x (2nd time in photo) an old garden with really nice soil though. I did accomplish my goal to get the old sod/weeds turned, level, planted and the following spring, rye came up followed by grasses and this was a paying job, it filled in with a nice stand of grass for a lawn, though I'd love to plant this, it is a neighbor and a paying job. I just about re-landscaped the entire side of their place, replanted grasses etc.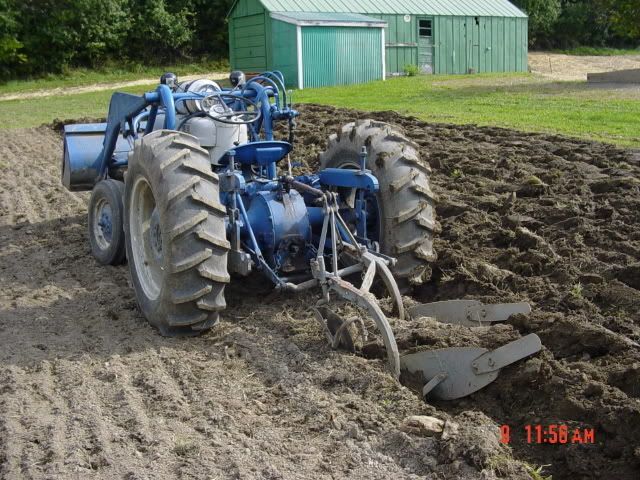 You can see the coulter is too deep, this is a 101 ford, trip type, 2 bottom with worn out shares, did what I could in the furrow, and it worked, not the best but I planted a fall crop of oats in here for a plot that came in nice, a benefit for the deer (was a real harsh winter) and ourselves during the hunt. Suprisingly, it pulled ok, but the 2nd bottom would suck in and this plow was shiny super polished when I got it from previous use. Again, both the ferguson and this 101 are not set up properly, ferguson missing parts, 101 with worn shares, not how to run a plow but how to make one work with less then better results when it needed to get done, which I am not a fan doing, better to do it right the first time.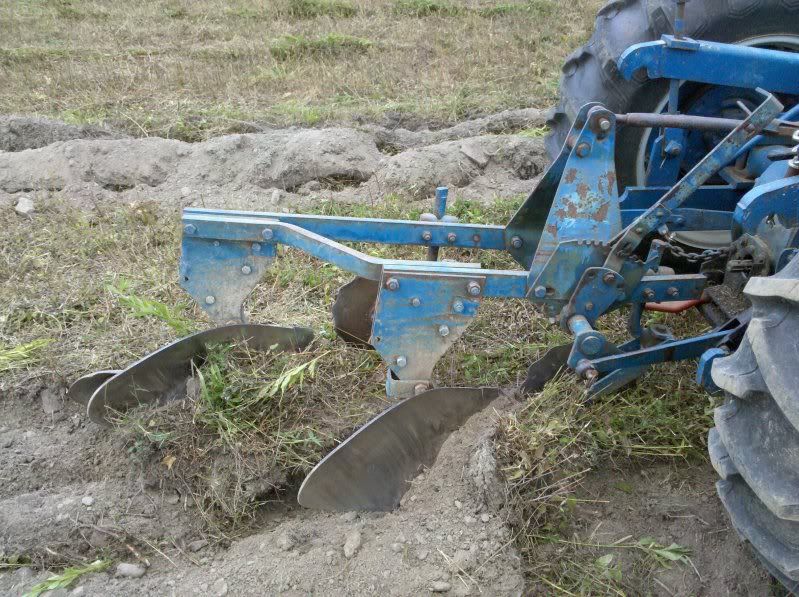 I found this one bottom in '09, was a nice find for $100, came with all the options, including a gauge wheel, coulter, larger or H/D landslide, but the share did have some wear on it. I'm not even sure how to measure this plow to say what it is, seems like a 14" or 16".
I drove and chocked the tractor up on a 6" or 8" block, leveled the plow as shown side to side and front to back. I recorded the measurements on how much threaded rod was out on my level box (3 pt lift arm adjuster and my top link exposed thread or distance for future reference or next time). Now this is a shear bolt protected plow, and I also suspected I may have to adjust for alignment(trailing). I tried it in my garden first, it pulled perfectly, it plowed easily, trailed correctly, and it was really fun to do this work. Previously, I did none of the above and tried it in oat stubble, adjusted in the furrow, well it trailed off a little, still sucked in ( moldboard was rusted when I got it). Doing what I describe in the photo below is all it took, this thing pulls nice, never tripped once (shear bolt)and I took it to the field next which has clay/gravel and deep top soil lots of round rocks up 6"-12" round, oval, photos below: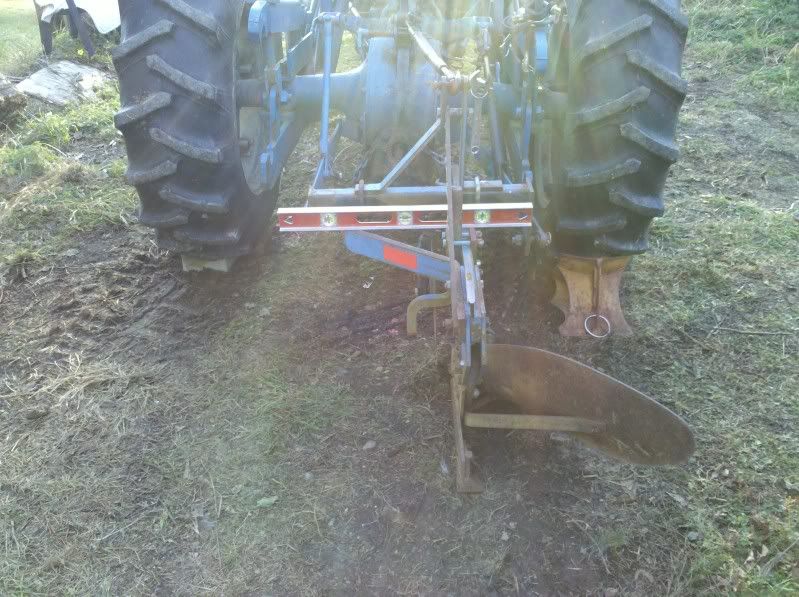 Garden patch - I believe this is a good result, others may comment different, but its the best I've ever done with one of these LOL !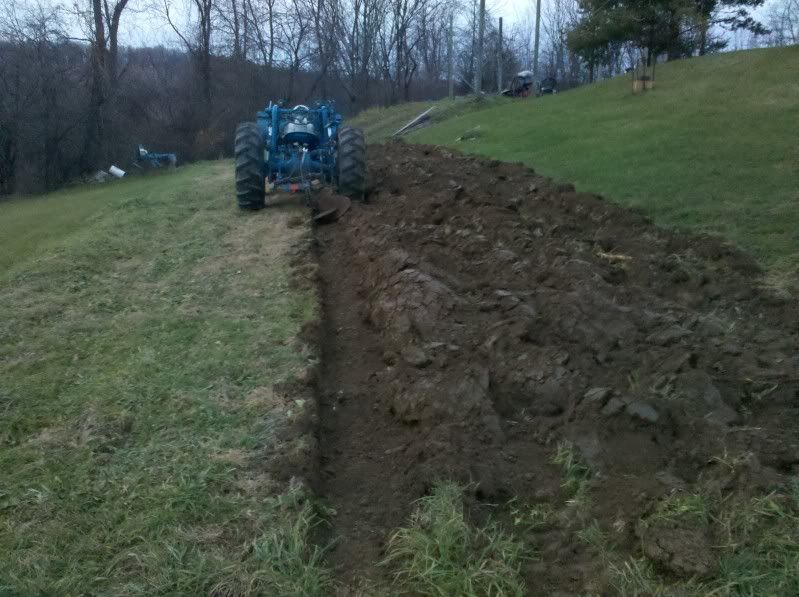 Deep top soil adjacent to small creek and marsh, edge of field:

You should post some photos of what you are doing and your plow, it will help anyone here to advise, I've had my trials and tribulations and am no expert, but it was fun to learn, take in what others said here and try it out, leading up to this particular plow working so nicely. Its a Ford 110, my other is a 101 and I will be putting shares on it and doing some plowing.
It seems around here, farmers don't seem to put on grease, coating or paint the moldboards, the guy who worked this ground for years never did. The moldboard does scour in this soil, it has enough sand, gravel and does not make suction like finer soils could do, and does which combined with a rusty mold board could plug and or cause it not to work, commonly called scouring. I painted my 110 right after using it, the paint will come right off, my 101 I greased, fall of '09 and its just starting to come of, cheap can of spray paint is all you need, TSC sells plow coating as well.
Your soil conditions, moisture all play into this, a plow with worn shares, hard dry soil may not work, I have seen this, was so dry april '09 that my farmer friend's 5 bottom IH would not go in, and I welded up shares to the existing ones, it would normally have sucked right in and have been good for 30 acres in these soils.
Tail wheel/gauge wheel is nice for depth control, that, draft control on my ford 850 does not seem to work, no tail wheel on the ferguson plow was a nightmare, the 110 had the gauge wheel connected like a coulter, I took it off initially, now last December, that plow, adjusted properly, seems to not need it, draft control, basically done by hand, when the tires slipped, which was not much, it pulled so easily and that grass/weed stubble was almost perfectly turned and covered which I assume is the intent of plowing ! Cover boards may help make that sod bound soil flip sooner and or completely as I reviewed video I took, maybe those or some minor adjusting the furrow might look perfect most of the time.
Coulters, well there is a certain depth, don't use my photos as reference of that some show them too deep. Some soils conditions maybe you don't need them, I like them on, more so in sod or stubble, taller grasses, but you should cut any grass, (well shred like a rotary cutter) lay it down and you will plug, other crop trash may do same, some people run some sort of wire to lay down grasses if I understand correctly, I like to have the area cut and minimal trash to plug, sharp coulter seems to cut through and the trash gets buried, too many varying opinions, methods, conditions to say what is right, I think a plow should have them for what I do.
Your plow shares if worn, you may be able find a part number on the existing ones if you take them off and see what is out there, tons of these Dearborn plows out there and I know there is some obsolescence associated with wear parts now, not so sure you won't be able to find some parts for it somewhere. Check around, ask here and see if you can post some photos. I'm not a plow expert, but I enjoy and have fun with planting my food plots and shared some experience here with same so far.