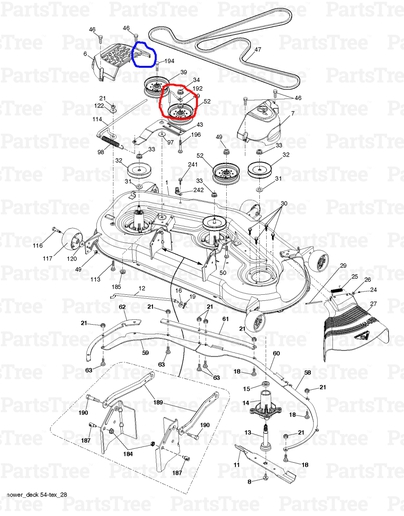 Bought a GTH2754 in 2004.
Belt shredded within a few hours of operation. Dealer came out and installed a new belt. Before he left the new one shredded.
Upon close inspection we found two things.
1. The belt was not placed between the pulley and belt guard on the tension idler. (marked in red)..
2. The belt was rubbing against the belt guard on the deck. (marked in blue). Used an angle grinder to remove enough material to give the belt approx. 1/2" clearance from the guard. Installed a new belt and ran it for almost five years before it wore out..
Replaced the factory belt with a
API Products A-88667 K
belt from V belt and it is still running as good as a new factory belt.