Today has been a long day. Per advice I got on here, we poured some ATF down the plug holes a few days ago. Let it soak. Today was the day to try to start it (first time in three years)...
Took out the old plugs, jacked up the rear end, put it in 4-over, and eased the rear wheel forward. The motor turned easy (I was surprised at how easy). Checked all four plug holes--good compression. Took off the glass bell in the gas line, ran some new gas through the line and into a bucket to clear it out (tank was empty...more on that later), put the bell back on, and put some gas in the tank. Filled the radiator. Put my new plugs on, turned the key for the first time...no spark. Ran out and got a new set of points, a new rotor, and a new condenser (thanks to this site, I was able to give the CarQuest guy accurate parts numbers). Put the points in and voila! Good spark.
Here's a link to the video I took of the first time we tried to start it after putting the new points on and putting a bit of gas down the plug holes:
https://www.youtube.com/watch?v=OwiHJc_2knU
(sorry for the bad angle...I was holding the camera and turning the key)
I think it was running on its own, even if for a brief time. We killed it when we noticed that scraping noise. After the video ended, we fixed the fan cover issue, and tried starting it again, but--
It never fired after that, even after we put new gas down the plug holes. Does anyone know what could have caused it to fire right up (virtually) that first time, but then it wouldn't start again after that?
Then we spent close to an hour trying to get the gas tank off because it was leaking pretty bad (where the fuel line connects into the tank). You can't see it very well, but there's a rubber segment in the fuel line (you can see it in the bottom left of the picture)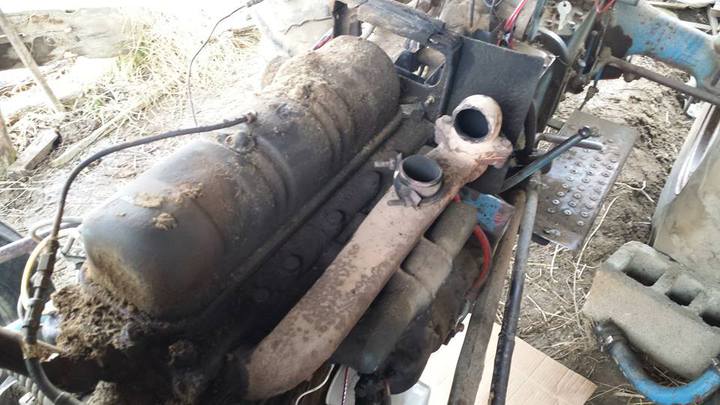 I think that's a patch or repair, but dad thinks it may be factory. Either way, doesn't seem to be leaking around it. If I wind up needing to replace the fuel line, do I need to be sure that rubber elbow-like piece is in it?
Here's a close-up of the manifold (muffler fell right off this side)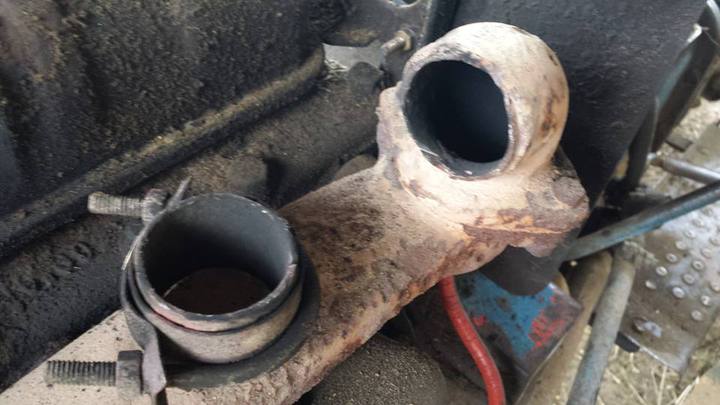 It looks like the piece that's sitting on the manifold in the pic has broken off the bracket. Should there be a "lip" on the manifold that I'm missing?
Also, found this in my gas tank: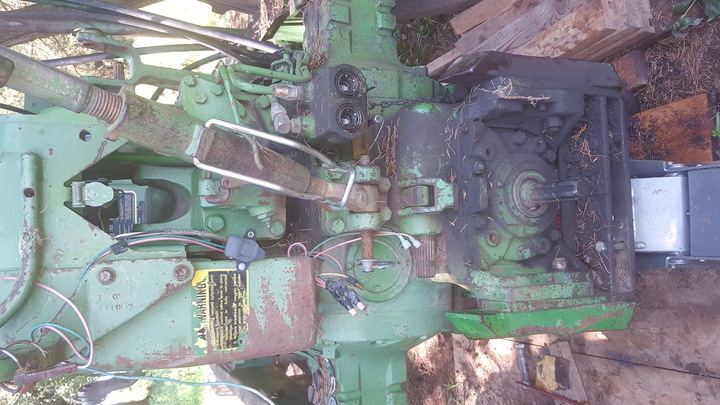 Anyone lose a screw driver?