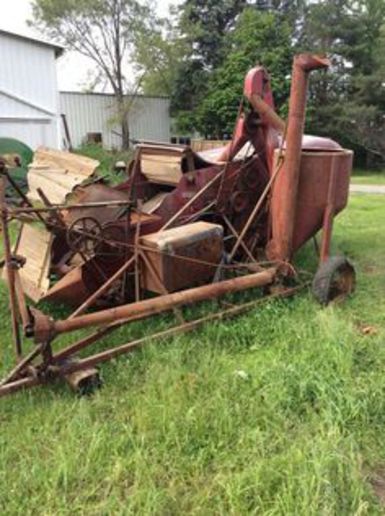 My pull-type combine story is unusual. A little imagination is needed because cameras were a luxury when this history played out.
Dadís 38 C Case, shown here in 2005, showed up on our poor farm about 1950. Among its many uses, it powered two different badly worn, pull-type combines in the early 50s. Dad could fix any implement---because poor farmers had to and because he had blacksmith skills.
The tiny picture shows vaguely the last and larger combine of the two being pulled by the C Case. The last picture is NOT dadís combine but is the same model as dadís smaller combine.
The smaller combine was an IH model 30. It was made to be used behind an F12 or F14 Farmall. The number 30 meant it had a 30 INCH wide sickle!!!! The grain tank was 12 bushels!!!!
The milo we grew was planted on 40 inch rows so this little combine harvested one row at a time. It took a looooo ng time to do our 50+ acres. The dirt, cold, and wind made the job in November very miserable.
Dad acquired the larger combine from a neighbor for a few dollars. The larger combine was an IH model 42óhaving a 42 INCH wide sickle but in many respects was the same as the model 30 so the model 30 became a parts machine. The two snouts on the model 42 were 48 inches point to point. This allowed us to harvest TWO ROWS AT A TIME!!!!! ! twice as fast!!!! Life was good!!!!!