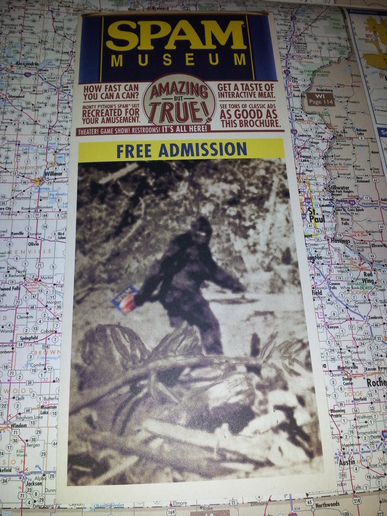 After supper we left Des Moines and headed East on I-80 about 115 miles to Coralville (Iowa City).
Not sure but I think it was a Holiday Inn Express we stopped at. 100+ for a room with one bed. Otherwise no rooms left. HUH! Says I...The town is dead! There's nobody on the streets. What's going on in town that there's no rooms left? Says he...Its the storm. Everybody got off the roads and are staying the night. ??????? OK ????? But the roads are clear and dry here compared to Albert City. What gives? Says he....We had a lot of snow earlier today. Says I...Well I'm not paying over 100 bucks for one bed! I guess I'll go try somewhere else.
Did I mention earlier about being German stubborn? Again, its the principle of the thing. As a business owner, the guy can set his rates wherever he wants but it riles me a bit he's gouging people just because of the weather and folks are in a bind.
So we go across the street to a Quality Inn and found a clean comfortable room with two beds for 70 bucks. (plus 8.40 for State and City Tax) ouch!
Now we walk through the lobby heading to our room when something in the advertising rack catches my eye. Good Lord!!! Don L. has been holding out on us!!! Austin Minn. has a Spam Museum!!! Now I have a nephew that thinks Spam is pretty neat stuff so I grab the brochure and take it with me to the room.
Fast forward a bit and we're ready for bed, covers pulled up high, the glow of the TV flickering against the dark walls. I've already wore out the TV remote looking for a program that doesn't promote the nations most dysfunctional families or who has the most tattoos or who can use the most swear words per minute. So I settle on a Duck Dynasty re-run.....and my mind starts to review the days events...the toy tractor show....the snow....the long roads....the McDonalds burger....Dang that McDonalds!.....shoot! I left the girl scout cookies in the car.....oh well,....I'm starting to drift off to sleep a bit....and then BAM!.... the thought hits me....SPAM!...SPAM...Spam...spam...dang it! I wonder what that McDonald burger would taste like with Spam?....Have I ever eaten Spam?...Is it juicy in a can like that?....Do normal people eat Spam?....Do I know anybody who eats Spam?....Why not just buy ham?.....What do you make with Spam?
I can't take it anymore. I get out of bed and grab the brochure. Not much info about Spam. One line on the cover says.."Get a taste of interactive meat"....My gosh! What does that mean??? Oh well, I guess I need to stop in Austin and check out the Museum. Back to bed.
I lie there a minute, the mind reeling. Hah! The internet! I grab my smart phone and google "what to make with spam". I click on a promising looking search result. "5 Great Things To Make With Spam" Spam doughnuts, Spam fries, Spamsicles.
These suggestions wouldn't sound good with a real Ham let alone Spam. Maybe I should read the commentary.
"2012 marks the 75th anniversary of Spam. Glorious, versatile, just-don't-tell-me-what's-inside-of-it Spam. While not everyone shares the same giddiness for Hormel's glistening canned meat product, those who do know that it can be a cheap and comforting indulgence. And who knows? Spam's freakish shelf-life may just help us all survive the zombie apocalypse. Stock up now folks."
Good Grief! This is NOT helping!
Back to bed. Close the eyes. Try not to think about it.....
Have you guys ever seen The Christmas Story? When Ralphie lies in bed, drifting off to sleep dreaming about getting his new official Red Ryder, carbine action, two-hundred shot range model air rifle with a compass in the stock and this "thing" that tells time?
Well it was kind of like that, only I was drifting off to sleep thinking about Spam. Spam burgers...Spam and cheese...Spam and eggs...green eggs and Spam...Spam pizza...a cold Spam sammich....Spam with pineapple.......zzzzzz