Some other differences were:
Steering gears, B uses a drag link that runs down from gear, C uses a a drag link that runs up from gear.
Radiator support, B uses heavy sheet steel support while C has a Cast support with internal steering gears
Nose - C sheet metal for radiator shroud is cut out to accommodate the steering arm.
Fender/Wheel Guards - The B fenders are more clam-shelled like the CA, the C fenders are more upright with strengthening ribs allowing a couple of inches more clearance to pull the rims in when reversed.
Rear hubs - C uses a heavy cast lug nut connections while the B uses a less conical single bolt wheel, dropped axles are different because of this. If I recall the rims are interchangeable if you also keep the eccentric bodies, but the C normally came with a wider rim on the rear, I have them and can measure if necessary. 10 inches wide sticks out in my mind for the C. B probably could get those later on, but early Bs had narrow rims, I also have a set or two of those I could measure.
May be some other things I'm forgetting, but people mentioned the major differences in the rear and front end, totally different finals though a few minor parts interchange and the tail is the same (PTO and Hydraulics). As I start listing things out, it occurs to me that they're as different as they are the same. Similarities that come to mind are hood, front rims, tank and support, tool box (variants), torque tube and shaft, transmission, pto, seat, engine and electrics, instrument box and hydraulic pump / rams.
These are really lousy pictures (picture of a picture) but they show some of those differences.
AC B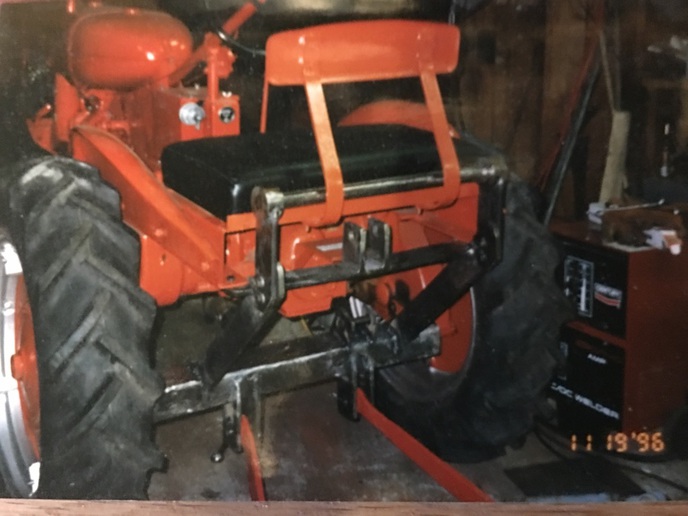 AC C (note finals, fenders, drag link and gear)