They make a stiff wire brush that will work in a electric drill what will go into the inspection hole. I would guess you will find it when cleaned to where the flywheel looks like new steel on the edge.
I started pulling with an Allis Chalmers stock C. Same engine as your B. I was told I could get more HP with a stronger spring. What I found when pulling on a transfer sled as soon as the tractor took on a load the rpm dropped way before the traction give out and it might have gained an inch or two if any. I went to a cot spring, which is almost like using a piece of bailing wire direct to the carburetor, that would take the RPM to its fuel limit. this was not much faster that the heavy Allis spring. I drilled out the power jet a slight bit until I had the RPM as fast as I thought I could get by with. Same results as before. Without more engine it was not going to gain me much if any more distance on the track. Over the next winter I removed the head and milled .150 off that head. When I started pulling again the engine would support the extra RPM and I could see some extra gain in distance. The next year I installed small block Chevy valves and reamed out the ports to 1 1/4". This also gave me more wins than before. Because of competition from a cousin all reason went out the window. This is when I went to a 4 inch stroke, a crane ground camshaft with larger valves and all the restrictions removed from the below the valve seats. The original carburetor received a larger power orifice and venturi. I built a pulling track at the edge of my yard in a field to try all changes I made in the carburetor along with what the different balance an air pressures did.
The first head hand reamed first then milled.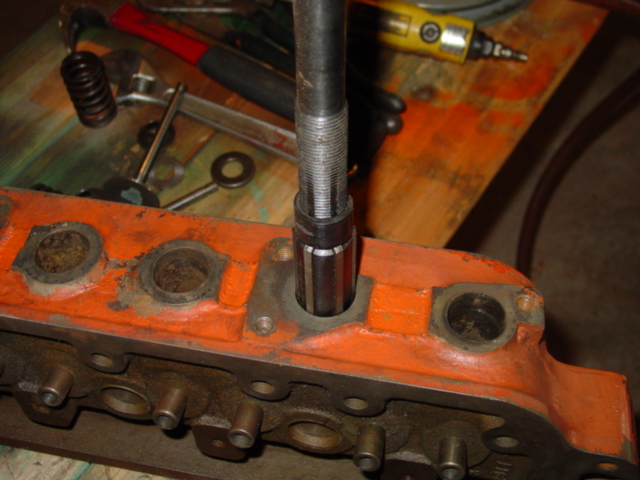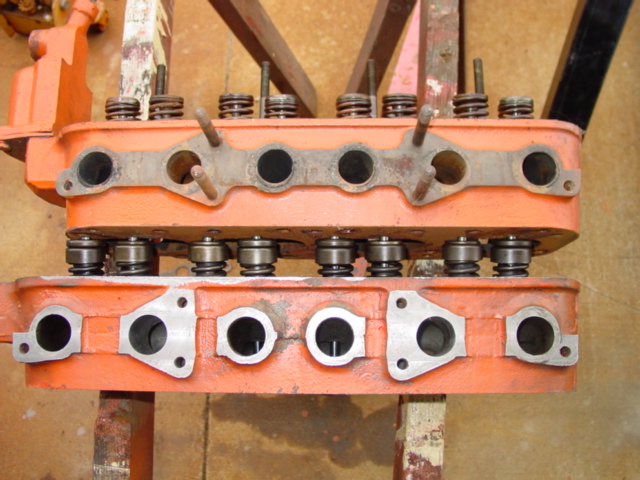 This not the head I run but the same work was done.