A Belt Pulley? Really Doing Something?

As promised, we will occasionally present an article that covers some facet of fabricating parts or accessories for your tractor. Though I had planned to start these with a design and method for an original replica sheet metal component that goes on a Farmall Cub, my writing "creativity" got the cart before the tractor and began flowing on a project that hobby farmers and homesteaders need all the time. Though few will be able to use this specific plan, hopefully it will start you thinking about the things you may need and more importantly that you can make them. This project made use of that part of the tractor that we all "must" have but is never used - the Belt Pulley.

Belt Pulleys! Most of us conjure up a picture of a massive thresher with a wide belt lazily arching to a tractor 35 feet away throwing a cloud of dust, straw and grain, and while nostalgic, not too practical a method of using our tractors. While this may have been the bread and butter of the belt work in the past (since this is what made the money on many farms), the smaller tasks may have been and still can be its real claim to fame. The thresher would bring in the harvest (and income) once a year, but firewood had to be cut every day, dry corn shelled frequently and feeds ground constantly or neither the farmer or the livestock would have dinner.

Well the chainsaw (and electric stove) has reduced the importance of belt driven firewood bucking, but grinding grains or feed with the tractor turned out to be still a viable method even in the 90s. We personally had the opportunity to feed the livestock with hand ground grain. We purchased a combination crank-and-pulley grinder because a PTO driven production grinder was not econically feasible (was overkill for our operation) and began to purchase raw grains six tons at a time. It was an economic improvement over purchasing bulk preprocessed feed but trying to keep up with the hungry cows, pigs, turkeys, and chickens became impractical even though grinding by hand was great aerobic exercise. We decided to grind and mix three garbage cans full at a time and it quickly became apparent that we needed to automate the grinder. During the 30s and 40s it was a common practice to convert any stout hand crank machine to a stationary engine, electric motor or tractor belt pulley. We began to look at our machines and nearly every tractor we had was equipped with a belt pulley. Only two models stood out as likely candidates since they had belt pulleys on the rear and thus a mount for the grain grinder would be easiest to mount. The little Allis-Chalmers (Bs, C, and CA) had rear mount pulleys but were used for other rear-mount functions and by default our lone Massey-Harris, a Pony, won the honor. It is only used for cultivating and the cultivators are mid-mount models thus no drawbar restrictions of a rear mounted grinder would be noticeable.

The general idea was in my mind and to be honest, I started cutting and welding without preparing an official engineering drawing and in my defense I kind of doubt many of those farmers in the 30s and 40s had access to AutoCad or a drafting table for that matter. After the fact (in reality while writing this article), I did prepare the drawing and recommend this for any project that you want to come out right the first time. Since our readership is online, 99.9 percent of you have the tools to draw out the projects you can imagine, even with Paint, MacPaint or... even pencil and paper.

The basics were simply a platform that would hold the grinder high enough that a garbage can could fit under the exit chute, would allow clearance for the belt, have adjustment to keep the belt tensioned and would not be too high to pour buckets of grains in. This design was made pretty easy by having the angle iron fender and hitch mounts common on both the little Pony, the Earthmaster and the A-Cs. The other rear pulley tractors that come to mind would require significantly more effort to design stable mounts unless struts were extended to the drawbar (making it less useful during non-grinding operations). We opted to try using the flat belt pulley instead of replacing it with a v-belt pulley compatible with the pulley on the grinder. Though we were taking a chance, we found that the V-belt pulley on the grinder plus correct tensioning kept the belt in perfect alignment and the additional hassle of locating a V-belt pulley for the Pony would have been a needless effort. With the author's apologies for a decided lack of sense of proportion, here is the plan.
Using the drilled angle iron to hold the platform makes it a simple matter to attach the mounts. The two inch uprights raise the platform sufficiently for the collection can clearance. The holes were drilled with an electric drill and the cutouts made with a small angle grinder. The slots that allow adjustment in belt tension were made by drilling two closely spaced holes and using a carbide burr in the drill to take out the material in between. The chute cover was critical to keep grain headed downward rather than hitting the platform and flying all over the floor. Both the chute bottom and top were formed on a railroad tie by simply using C-Clamps to hold them and hammering the bends with a ball pein hammer. The bottom was welded to the platform but the top cover was simply bent by hand slightly over a 45 degree angle such that the sides have pressure against the bottom (it has never fallen off). Guards were formed by cutting a plywood form and peining the edge over with their mounts being simple bar stock welded on and bolted to the platform.
As mentioned in the original fabrication article, the drill and angle grinder are basic necessities but the welding could have been farmed out for pocket change. If, in fabricating such items, you decide to purchase a welder, its important to mention that, on this project, even the sheet metal was welded with an inexpensive "buzz box" AC welder (This is apparent by the weird looking welds in the pictures but it is still strong and shows no signs of giving up after hard use). If appearance is not an issue, as is the case with working-tractor projects like this, one can get by with very small mild steel rods and very low amperage. If appearance is an issue for you, such as a replica component for a restoration, then the welding must be farmed out or you have to spend the big bucks for a wire feed welder.
When all was said and done, we had about 3 hours into making this mount and no more than ten dollars in scrap steel and welding rod (well... that doesn't count the 3.95 for the IH Red Poof Can paint) and it really works. We have friends that have come up with innovative and inexpensive ideas along this line with my personal favorite being a Farmall H that will drive an ice cream maker for use at benefits. With our project, there was no better feeling than finding a use for this very old technology and saving hours of work in the process... and we made it ourselves.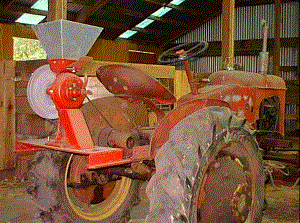 Massey-Harris Pony with Grain Grinder attached to Belt Pulley

WARNING, Guards are not mounted for the purpose of showing belt placement and mounting, never fabricate or use belt accessories that do not have completely covered belts and pulleys. Even with pulleys in place, never operate such equipment with children or animals present.




Home | Forums



Today's Featured Article - Earthmaster Project Progress Just a little update on my Earthmaster......it's back from the dead! I pulled the head, and soaked the stuck valves with mystery oil overnight, re-installed the head, and bingo, the compression returned. But alas, my carb foiled me again, it would fire a second then flood out. After numerous dead ends for a replacement carb, I went to work fixing mine.I soldered new floats on the float arm, they came from an old motorcycle carb, replaced the packing on the throttle shaft with o-rings, cut new ga ... [Read Article]

Latest Ad: John Deere 60 head ,checked for cracks. [More Ads]



Copyright © 1997-2023 Yesterday's Tractor Co.


All Rights Reserved. Reproduction of any part of this website, including design and content, without written permission is strictly prohibited. Trade Marks and Trade Names contained and used in this Website are those of others, and are used in this Website in a descriptive sense to refer to the products of others. Use of this Web site constitutes acceptance of our User Agreement and Privacy Policy

TRADEMARK DISCLAIMER: Tradenames and Trademarks referred to within Yesterday's Tractor Co. products and within the Yesterday's Tractor Co. websites are the property of their respective trademark holders. None of these trademark holders are affiliated with Yesterday's Tractor Co., our products, or our website nor are we sponsored by them. John Deere and its logos are the registered trademarks of the John Deere Corporation. Agco, Agco Allis, White, Massey Ferguson and their logos are the registered trademarks of AGCO Corporation. Case, Case-IH, Farmall, International Harvester, New Holland and their logos are registered trademarks of CNH Global N.V.

Yesterday's Tractors - Antique Tractor Headquarters