Uncle Cecil's Super A Lives Again
by Mike Purcell
A week or so out of most of my childhood summers was often spent with my Uncle Cecil and Aunt Sissie in the small East Texas town of Maydelle on their 80 acre farm. Some of my fondest memories of these visits are those of learning to drive a tractor at the helm of Uncle Cecil's 1948 Farmall Super A. Uncle Cecil was the second owner of this wonderful little tractor, but it was almost as though he had adopted an infant. The original owner was a man from Minnesota who bought her from a local dealer in the spring of 1948 and promptly loaded up all of his belongings, along with this tractor, and moved to Jacksonville, Texas. His intention was to try his luck at southern truck farming. It didn't take but one growing season for him to decide that the 80 acre pea patch he was depending on for his living was not enough for a man unwise in the ways of southern living. As promptly as he came, he went back to Minnesota.
Before leaving, however, he made a trade with the Chevrolet dealership in Jacksonville. He negotiated a swap, which included the tractor, a turning plow, a disc, and a set of planters, for a new pick-up truck. At a time when the Super A Farmall tractor was harder to find in Texas than honesty in congress, this made for a gold mine for the first passer-by with about $1000 to spend. The first passer-by with that kind of money (or good credit with the bank) was my Uncle Cecil. At the time, he was farming 80 acres of market vegetables and a few cattle with a mule team and dreams of someday being a tractor-farmer. There on the small hill-top farm in Maydelle, Texas, this Super A spent the next 49 years, the last 10 or so sitting idle in the small, dilapidated tractor shed behind the house.

About eighteen years ago, we began having family reunions each Labor Day weekend at Uncle Cecil and Aunt Sissie's little hill-top farm. About an hour or so after arriving each year, after I had said my hellos to everyone, I would make the same pilgrimage to the old tractor shed to visit this sweet little machine filled with memories. I would stand and stare at her, taking in the familiar smell of the old grease, oil, and dirt that had collected on her motor and frame over the many years of hard work in the field. My mind would race back to the simpler days of my youth, when my greatest concern was being able to wait until evening, when Uncle Cecil would get home from work and take her out of the shed, line me up with the back gate, and say "down to the creek and back, Mikie…and be careful with her."

I guess the first time I asked him to sell her to me was about nine years ago. Each successive year I would ask the same question, only to be met with the same answer- "You can have it when I don't need it anymore, Mikie." I never really thought much about what that meant, until early in 1998 when Uncle Cecil and Aunt Sissie both began to fall prey to the casualties of old age. Cecil and Sissie never had children of their own, and all of the nieces and nephews were "all their kids", as Aunt Sissie would frequently say. They hold a very special place in the hearts of all of us.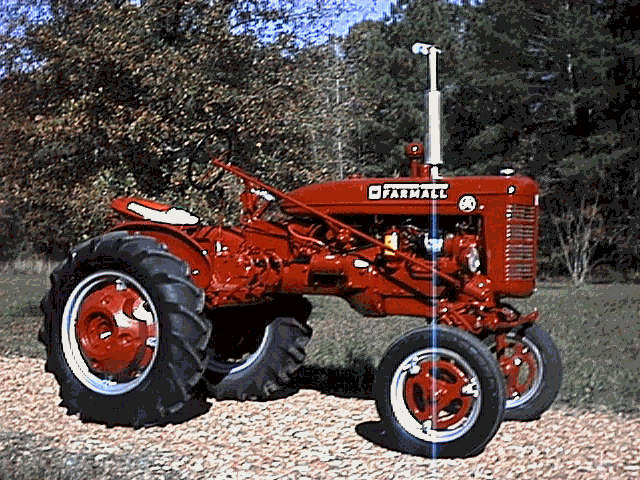 My oldest brother and I agreed to meet in Shreveport, Louisiana and ride together the rest of the way to see Aunt Sissie in the Jacksonville hospital. It was during that visit that Uncle Cecil, knowing that they would both have to go to a nursing home very soon, said "Mike, you can go on out and get that old tractor anytime you want to." I had waited years to hear those words. I just never associated the thought with the sadness of a man faced with the reality of never again being able to drive the little tractor that served him faithfully for so many years.
A couple of weeks later, accompanied by my wife and two daughters, I set out on a trip from our home in Southwest Arkansas to the little farm in East Texas to load up this old tractor and all of the implements that we could salvage. Armed with two vehicles and two trailers in tow, as well as a bevy of tools, two come-alongs, chains, starter fluid, jumper cables, a new 6-volt battery, a compressor…you get the point, we made the four-hour journey to Maydelle. On the way, we stopped by the nursing home in Jacksonville that Cecil and Sissie had moved into. Uncle Cecil gave me some last minute instructions on a few things regarding the tractor. I left there feeling a little down, though. He had never been a man of many words, but this particular day he seemed even quieter.
We headed on out to the farm and got started right away. It was the middle of May and pretty hot already in Texas. I decided to load the old Taylor drawbar bush-hog first on the larger trailer, saving the remaining space on it for the Super A. The disc, turning plow, and cultivators went on the smaller trailer that Judy would tow home. There was a set of planters in the barn pasture. Unfortunately, it had a 5" pine tree growing up through the middle of the frame and I had no saw, so we left it behind. Then came the tractor.
I had hoped to be able to start her up to load on the trailer. A cousin had indicated that he had started her within the past year or so and that she ran good at that time. I aired the tires, added some fuel, and checked the radiator. She was bone dry. I went to a faucet and filled a bucket with water and returned to the shed to fill the radiator. As I filled it, I suddenly felt a wet sensation on my pants leg, filling my boot. The block plug was gone! I looked high and low in that shed for something that resembled a block plug, but to no avail. I know most great tractor stories have the part where "she roared to life as I turned the crank", but such was not the case here. I reconciled myself to the fact that it would be in the interest of time to just hook up the come-alongs and get her loaded and get on the road for the long, slow journey back home. Church would come awful early tomorrow.
The trip home was uneventful. The next day after church, my 10 year old daughter, Katie, and I took her straight to the car wash and washed her off as best as we could. We brought her home and unloaded her and thus began the six month long process of restoration, which is an article in itself (perhaps in a later issue!) A make-shift plug held the water in the block well enough for me to attempt to start her up for the first time. The starter was not cooperating, so after dusting out the distributor cap with sandpaper, I took hand-crank in hand and gave a mighty heave…then another…then another…then…SHE ROARED TO LIFE!
After a cursory ride around the yard with the girls, I parked her under a small shed roof and began taking notes on wiring, linkages, firing order, timing, and anything else I felt I may forget before time to put her back together. From the beginning, Katie was my best helper. Deemed "chief assistant", she was willing to do anything from scrape grease to turn a wrench. Kristen, my seven year old daughter, was a good helper too, just not quite as committed to the cause. Perhaps in a few years she will have a larger attention span and a smaller intolerance for "yucky stuff"!
The next six months were filled with lots of research, looking, learning, listening, and hard work. But driving that little jewel away from the work site and into the brightness of a sunny afternoon in November made it all worthwhile. Seeing the sunlight glisten off of her beautiful new paint job, as Katie drove her up and down the long gravel driveway, was like watching a baby take its first steps.
Katie and I have a new connection now, something parents desperately need with youngsters approaching their teen years. The tractor hobby has also fostered new friendships, both with people I have met and some I have never seen or actually talked to in my life. People like my new e-mail friend in Tennessee who helped me figure out that when everything seemed right but I couldn't get her started for anything, I needed to check to see if maybe I had her timed off by 180 degrees. He was right! Others, like the folks at the Wisconsin State Historical Society, curators of the IH Farmall archives, were a tremendous help in learning that this was the 274th Super A made (within an eight year production run exceeding 94,000 units) and that it came from a factory in Louisville, Kentucky. The antique tractor hobby is enjoyed by some of the greatest folks I have ever met.
This restoration project has created some wonderful memories for me. I can't help but laugh when I recall a conversation I had with Uncle Cecil in the nursing home a few weeks after I brought her home. When I asked him about the missing block plug, he replied "Aw, shucks Mikie. That plug's been missin' for years. I just always cut a new stob from a pecan limb every year and jammed it up in there." But there is something of an emptiness now that the Super A is finished. "What's next?", I wonder. Perhaps a Farmall B, or a Super H like dad had. Hmmm…my wife hasn't used a rolling pin in years. Why would she be searching for one now? Maybe the B will have to wait.