The Niagra View Mobile
Powered by a 1959 Ford 611 Tractor
by Mark Massey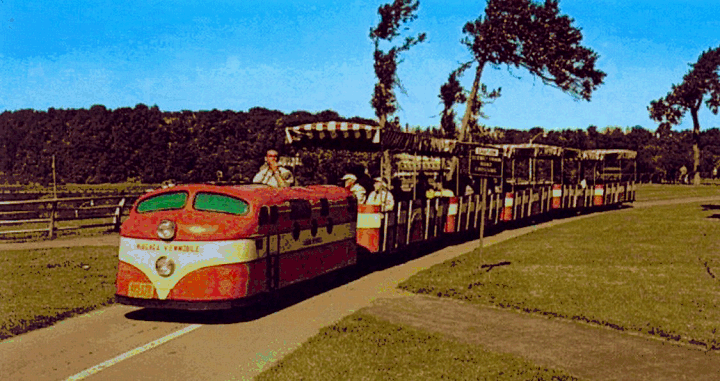 In 1959 the Niagara Frontier Transit Inc. of Buffalo, New York designed and built six Viewmobiles for the Niagara Frontier Sightseeing Inc. for use as a sightseeing ride at the Niagara Falls State Park, Niagara Falls, New York.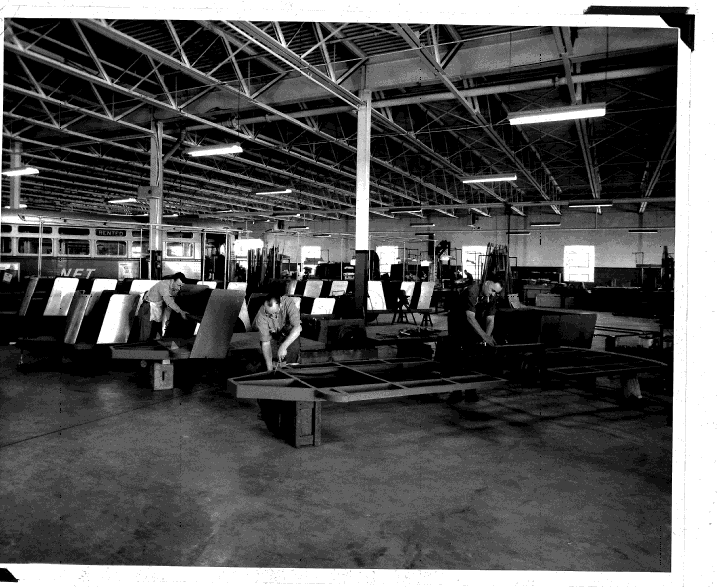 The Viewmobile was designed to look like a diesel locomotive train. The locomotive façade was an aluminum shell riveted over a rigid angle iron frame with a fiberglass upper nose.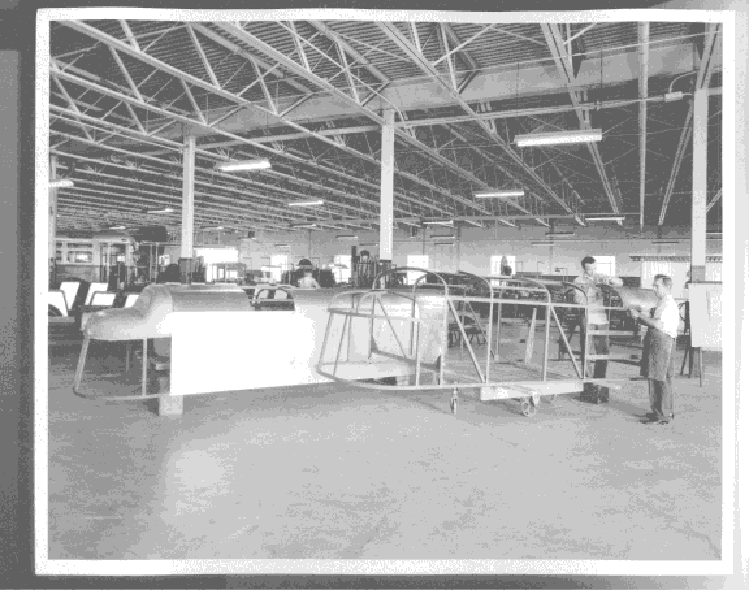 The power plant for the locomotive façade was a 1959 Ford Select-O-Shift (automatic transmission) tractor. The 1959 Ford model 611 was a stripped down utility model tractor which came standard with the Select-O-Shift transmission and a fixed drawbar. The industrial front end of this tractor had a solid front axle rather than the usual 3 piece adjustable width axle. The running gear of the 1959 Ford Model 611 was also modified to pull the train passenger cars.
Each train was capable of carrying 54 adults at approximately ten miles per hour. Each passenger car was equipped with an air suspension and air over a hydraulic brake system actuated by a single train line. The passenger cars were hand built with seats covered in leather over sponge rubber, with a red and white striped canvas canopy for passenger comfort.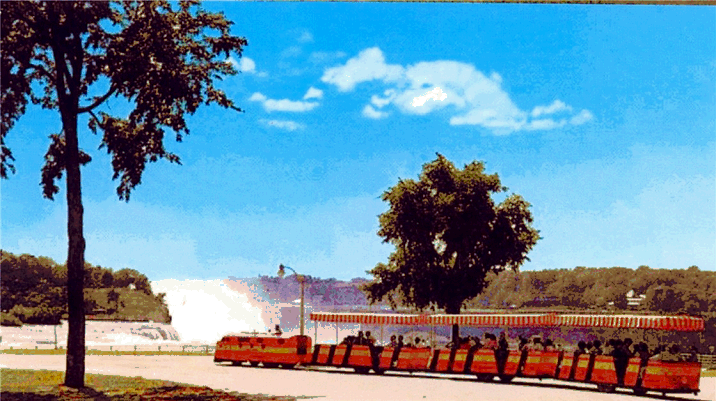 The viewmobile locomotive and passenger cars were painted in a red and cream colored paint scheme; as were the colors of the N.F.T. bus fleet.
The entire viewmobile fabrication and assembly was completed by N.F.T. employees at the NFT Bus Shops located at 1581 Michigan Avenue, Buffalo, New York.
The NFT was incorporated in 1950 and was the private predecessor to the current public Niagara Frontier Transportation Authority, which was formed in 1974 to provide public bus transportation service to both Erie and Niagara Counties, and Light Rail Transit Service on Main Street in Buffalo, New York.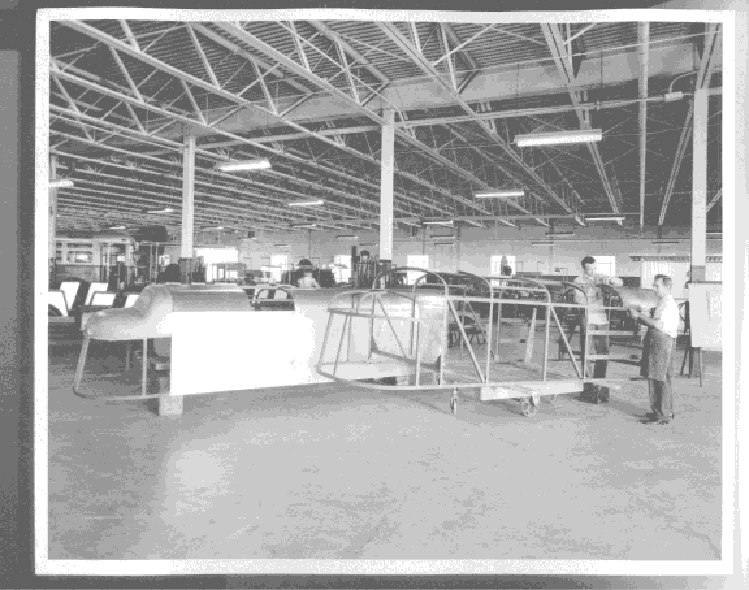 [Comment On This Article] - [View Other Comments]






Home | Forums



Today's Featured Article - Tractor Profile: Allis-Chalmers Model G - by Staff. The first Allis-Chalmers Model G was produced in 1948 in Gasden, Alabama, and was designed for vegetable gardeners, small farms and landscape businesses. It is a small compact tractor that came with a complete line of implements especially tailored for its unique design. It featured a rear-mounted Continental N62 four-cylinder engine with a 2-3/8 x 3-1/2 inch bore and stroke. The rear-mounted engine provided traction for the rear wheels while at the same time gave the tractor operator a gre ... [Read Article]

Latest Ad: Ford 8N tractor complete but not running. I just don't have time to finish up the project. [More Ads]



Copyright © 1997-2023 Yesterday's Tractor Co.


All Rights Reserved. Reproduction of any part of this website, including design and content, without written permission is strictly prohibited. Trade Marks and Trade Names contained and used in this Website are those of others, and are used in this Website in a descriptive sense to refer to the products of others. Use of this Web site constitutes acceptance of our User Agreement and Privacy Policy

TRADEMARK DISCLAIMER: Tradenames and Trademarks referred to within Yesterday's Tractor Co. products and within the Yesterday's Tractor Co. websites are the property of their respective trademark holders. None of these trademark holders are affiliated with Yesterday's Tractor Co., our products, or our website nor are we sponsored by them. John Deere and its logos are the registered trademarks of the John Deere Corporation. Agco, Agco Allis, White, Massey Ferguson and their logos are the registered trademarks of AGCO Corporation. Case, Case-IH, Farmall, International Harvester, New Holland and their logos are registered trademarks of CNH Global N.V.

Yesterday's Tractors - Antique Tractor Headquarters