Gathering of the Orange
Summer of 1999 in LaGrange, Indiana
by Rick Nikolich
In July of 1998 I was talking to fellow Allis Chalmers collector Mike Schilling about the annual "Gathering of The Orange" AC show coming up in August of 1999. He got this wild idea that we should get a convoy of AC tractors and drive them from Charlotte, Michigan 105 miles to LaGrange, Indiana.

The convoy pulls in to the Gathering of the Orange

A hundred questions flashed through my mind: How many days would it take?, What if I break down?, What if it storms?, etc... Mike assured me that it would be a lot easier on the tractor than plowing all day in a field and that to be a part of this "orange streak" would be the adventure of a life time.

The more I thought about it the more excited I got about the trip, so for the next several months I spent getting my 1961 Allis Chalmers D10 ready for the big orange drive!

My wife was cautiously supportive, my 61 year old dad called us crazy. Most of my friends started to question how far I'd gone with this "tractor thing".

A few days before the convoy was to leave Mike Schilling called to finalize plans. He told me that he had signed up nearly 30 tractors total. He went on to say that he had one small problem. One AC owner with a WD45 wanted to find a driver for his pride and joy because his health was failing. I tried to think of potential "crazies" that would pilot this magnificent machine 120 grueling miles. My father who is a WD45 fan came to mind, but would he even consider such a whimsical trip? With a phone call my question was answered. I told dad that if he couldn't that my wife Dawn would have to help drive the 6000 lb orange beast, so he agreed to go!

Finally the morning that we were supposed to start our journey arrived. In a dense, foggy August morning 14 tractors lined up, engines revving up waiting for the signal from Mike to go.

There were: WC's, a WD, WD45's, a RC, B's, C's, a D272, a Ford Model A truck painted orange, even an AC riding mower, and then there was my cherished D10. My dad by now had gotten a full dose of the tractor bug and passed out name tags for everyone that he had made up special by a printer.

We finally took off around 8:00 a.m. as several photographers snapped pictures of our procession. It was difficult at first trying to keep everyone at the same pace and not get too spread out. Mike "the wagon master" took the lead and would pull over every several miles and would let us regroup. We had a repair truck with a trailer following us just in case we had any problems.

At 8 mph it seemed like an eternity, but we made it to the Marshall Fair Grounds in time for lunch. The local Tractor Club was gracious enough to fix us lunch, then we refueled and were off again.

Along the back roads many farmers and well wishers came out by the road to wave as we roared by. The sun felt warm, we were well on our way to LaGrange and by now we all felt confident that we would "make it". My dad was right behind me with the WD45, and he would run the throttle up every once in a while to make sure that I didn't forget he was back there. He acted more like 21 on this trip than 61!

By mid afternoon we pulled into a park in the small town of Burlington, Michigan for a one hour rest stop. Lots of people stopped to admire the orange machines that had over taken their park. One boy that rode up on his bike yelled "this is the biggest thing that has happened around here in years!"

Once we got back on the road we started to finally move a little quicker and stay together more, which was good because we needed to cover 80 miles by evening to end up at Burr Oak, Michigan to spend the night. As we traveled the winding country roads south a few more AC tractor enthusiasts were waiting anxiously along the way to join in our convoy that was now about a quarter of a mile long.

Around 6 p.m. We reached the Farm of George Braumeister in Burr Oak where there were several photographers waiting to get pictures of the "orange streak". This was where we would park our tractors for the night and begin the final leg of our journey at 7 a.m. the next day. My wife was there with my Uncle Charles to pick up my dad and I, and take us back to the hotel for a much anticipated hot shower and good night's sleep.

We arrived back the next morning at 6:15 a.m. and the air was filled with the hum of old tractors warming up and getting some final adjustments before their run. By now a few more tractors had arrived and were ready to fall in line, like minutemen waiting for their signal. There were dozens of friends, relatives, photographers, and tractor enthusiasts gathered around for the big send off.

When we saw Mike climb proudly aboard his WC and drop it into gear we knew it was time to begin our drive. So with much fan fare and excitement we were off, and now our orange streak stretched out for a half of a mile!

By now many of the local residents had heard of this orange convoy that was heading through the countryside like a snake. They were lined up along the roads and intersections just to get a glimpse or even a picture of the convoy.

About an hour down the road I could see several orange tractors lined up at an intersection up a head, and a group of people waiting to greet us. They turned out to be a bunch of Allis Chalmers collectors that Mike had arranged to join us for the final leg of our journey.

What a sight! Now our orange streak was nearly a mile long. The excitement was now at a feverish pitch for us, what a great feeling to be apart of something so big (and so orange).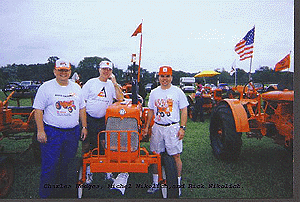 The author with family and friends at the Gathering of the Orange

As we approached LaGrange, Indiana it was difficult to keep us all together with all of the stop lights and traffic cutting in between us, but we were able to regroup at McDonald's in LaGrange and squeeze in a "pit stop". As we pulled into the parking lot my two daughters Brittany (10) and Samantha (8) came running up to greet me like I had just won the Super Bowl! A few "middle aged women" dressed in all orange even were waving orange pom-poms to welcome us. This was even a little more than I had bargained for but it was really a lot of fun.

We only had three miles to go to reach the show grounds and we were all torn between the excitement of reaching our destination and the realization that our orange joyride was almost over. My wife had told me that my 18 month old son Luke had been throwing a fit to ride with his dad on the tractor. So for the last few miles I held him tightly on my lap, as my proud wife looked on, snapping numerous pictures.

By now I felt "bullet proof". As we drove through downtown LaGrange many people would come running up to the curb to wave. They I saw a 20ish beautiful young lady come running up just waving up a storm and smiling big. About that time I started thinking that tractors are pretty cool...huh! Just then I realized that she was waving at a friend of hers across the street. Boy, I went from 60 to zero quick!

As we pulled into the fair grounds Mike kept his promise to drive a lap through the camping area before we parked just to make sure that everyone knew that we had arrived.

Now that the long, hot grueling trip was over, we all had a lot of memories and stories from the adventure not to mention some new tractor friends. The truth of the matter is that we had so much fun we can't wait to do it again.




Home | Forums



Today's Featured Article - Dad's Old Silver King and Joe Capalco - by Woody E. Diehl. My father, Charles Diehl, grew up in the Elsworth, Ohio area during the Depression on a small working farm. I never saw the place, nor was I around during his early years. What I know about those hard times comes from listening to Dad and his old pals reminisce from time to time. One of the old timers that would sit with Dad and chew the fat about the 'good ole days' was Joe Capalco. Joe wasn't like most of my Dad's friends. He rarely worked that we knew of. Always had plenty of time ... [Read Article]

Latest Ad: 1850 Oliver tractor front and back tires95 [More Ads]



Copyright © 1997-2023 Yesterday's Tractor Co.


All Rights Reserved. Reproduction of any part of this website, including design and content, without written permission is strictly prohibited. Trade Marks and Trade Names contained and used in this Website are those of others, and are used in this Website in a descriptive sense to refer to the products of others. Use of this Web site constitutes acceptance of our User Agreement and Privacy Policy

TRADEMARK DISCLAIMER: Tradenames and Trademarks referred to within Yesterday's Tractor Co. products and within the Yesterday's Tractor Co. websites are the property of their respective trademark holders. None of these trademark holders are affiliated with Yesterday's Tractor Co., our products, or our website nor are we sponsored by them. John Deere and its logos are the registered trademarks of the John Deere Corporation. Agco, Agco Allis, White, Massey Ferguson and their logos are the registered trademarks of AGCO Corporation. Case, Case-IH, Farmall, International Harvester, New Holland and their logos are registered trademarks of CNH Global N.V.

Yesterday's Tractors - Antique Tractor Headquarters