Show Coverage
Journey to Ankeny
by Cindy Ladage
We left Illinois on the first day of July and headed north and west for Ankeny, Iowa. Minus two kids, we traveled light with only the youngest in tow. As long as a pool was at the end of our destination she was easy to please unlike the other two who have a multitude of requirements to travel with mom and dad. Amana Colonies served as a respite where we ate a family style lunch that sustained us with more food than could reasonably fit into our ample physiques.
The show at Ankeny is really located just north of Des Moines, Iowa and was called the World Expo of Antique Farm Machinery. We arrived at the Expo around 3:00 p.m. and paid our $6.00 fee to get in (no price break for kids) then separated. Keith went to check out the parts that according to him have to be selected first thing before they are picked over. Like a woman at a sidewalk sale, he will check out each vendor and compare goods and prices. He gives a good impression of Alice of the Brady Bunch in the meat department selecting the best roast the way he lifts and turns each John Deere wrench or treasure to check it for defects.
Heading for the exhibitor tent, many tractor publications such as Antique Power, Gas & Engines, and Two Cylinder were represented. There were a couple of people selling different kinds of memorabilia and tractor trading cards. This year the weather was warm , so unlike two years ago everyone was not making a mad dash to purchase sweat shirts to keep warm.
The exhibit was big enough that you could not reasonably see everything in a few hours so we came back on Friday to see it all at a leisurely pace. The sky was leaden, and looked like rain early, but the crowds that morning already were thicker than they had been the day before. Volunteers from the Ansar Shriner's transported visitors back and forth from their cars to the show. The golf carts they drove back and forth could have you thinking their was 18 holes somewhere nearby.
Always on the look out for the new and different, I spent a lot of time admiring Bill and Peggy Anderson's unusual collection. Bill restores tractors at home in Superior, Nebraska. Peggy tears them down, then Bill does the body, mechanical and paint work. The couple began collecting mostly Minneapolis Moline, with at least one of most of everything else. Soon though they wanted something a little different, that's when they bought a West German made tractor, a 1958 Allgaier tractor. The Allgaier company was the fore runner to the Porshe company. In his exhibit, he also had a Bumgartz tractor and a rare Holder tractor.
There was every type of tractor imaginable at the World Expo. Leader tractors, Wards, tractors, IH, and Olivers all vied for attention. Ford tractors and B.F. Avery were also around along with Minneapolis Moline. Each tractor type was arranged together in a display area. The Deere exhibit was huge. In the Minneapolis Moline tent I almost jumped for joy when I met Paul Weiss and took a picture of his beautifully restored UDLX.
Paul Weiss said it took several years to restore this tractor and he enjoyed the hunt as much as the restoration. The Comfort tractor is always an eye catcher that everyone hovers around and wants to have their photograph taken beside it. Paul Weiss had a blow by blow photographic account of the restoration process so you could stop and thumb through the photos. In the beginning, unless you knew what you were looking for, you would never realize that the tractor in the picture was a UDLX, let alone a Minneapolis Moline. Besides the photo account, Paul also has a short description of the UDLX written by John Harvey.
Ray Swanson was at the show with his beautifully restored Massey Ferguson 30. Ray is at a lot of shows and people stop and admire his Massey wherever he goes. Larry Mullen's Mustang was also part of the Massey crowd that sat gleaming in the somewhat sunny sunshine.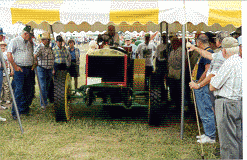 The first JD ever known.

One tractor that attracted a lot of attention was the first John Deere tractor known. This tractor was on display for a while on Friday before windy weather and tornado warnings forced the owner to put the antique tractor away. A new section of the tractor shows that seems to be creeping up everywhere these days much to my husbands delight was the lawn tractor section. Nothing pleases him more than a glimpse of a John Deere 110. He says that the ability to take a tractor to a show by just sticking it in the back of his pick up is a great way to travel. Evidently a lot of people agree, because lawn tractors of every year and hue found their way into the Expo.

The corn display is always one of my favorite exhibits to visit. This year though this display had a tough rival with the Hog Oilers collection collected and restored by Robert and Louise Cates of Deerfield, Wisconsin. The hog oilers seem to come in every shape size and color.

Tractor parts, memorabilia, rides, and an array of hot dogs on a stick, turkey legs and other food were all part of the fun. An exhibit of corn shelling took up a big section of the exhibit off to the side. If you could avoid being in the dust you could get a great close up look of the way corn harvesting used to be.

Around 3:00 on Friday, the sky darkened and the crowd thinned to a trickle. I heard later on they closed early because of sever weather warnings. We headed out and back towards Amana. The next day we stopped in Homestead and visited a wood working shop where a Minneapolis Moline collector works and displays some of him memorabilia. They said they are in the midst of redoing a museum and to come back in a couple of years and they would be ready for visitors.

On down the road in Sirgourney, Iowa we had the honor of touring the Lyle and Helen Dumont Museum. Besides a variety of dolls, Hollywood cut outs, and toy tractors and trucks, we saw the largest collection of Oliver tractors we have ever seen assembled. The museum was spotless. Signs and pedal tractors decorate the walls above the meticulously restored tractors as you walk down aisle after aisle of tractors in the 24,000 square foot building. The museum also had the only known complete set of Mogul gasoline engines built between 1915 and 1917. The museum is open on weekends and the cost if $5.00 that is a pittance to view this amazing collection. For more details about the museum, call (515) 622-2592.

The rest of the way home we antiqued our way south and east finally arriving home in time to collapse before enjoying the fourth the next day. Nothing makes a better Independence Day than a great trip and arriving home with kids and house all in one piece. If there was a big party or major incident while we were gone, nobody is telling so the only fireworks we witnessed were the fourth of July kind!




Home | Forums



Today's Featured Article - Fordson Model N: Field Service Operations and Lubrication - by Anthony West. The daily or weekly servicing of any vehicle is of the utmost importance, and in days gone by when our favorite tractors were doing an important and Commercially vital job on the farm, these service operations would make a major difference to the running costs and economy of the farm. This being so, it surprises me to see how many enthusiasts attending rallies, shows etc, seem to be unaware of the importance of this constant attention. Possibly the modern machine with its 6,000 mile or even once ... [Read Article]

Latest Ad: 1936 WC AC , just the old simple tractor,has good oil pressure, will run with choke mostly closed , fenders are perfect , tires fair, can text pictures, 800 or make offer [More Ads]



Copyright © 1997-2023 Yesterday's Tractor Co.


All Rights Reserved. Reproduction of any part of this website, including design and content, without written permission is strictly prohibited. Trade Marks and Trade Names contained and used in this Website are those of others, and are used in this Website in a descriptive sense to refer to the products of others. Use of this Web site constitutes acceptance of our User Agreement and Privacy Policy

TRADEMARK DISCLAIMER: Tradenames and Trademarks referred to within Yesterday's Tractor Co. products and within the Yesterday's Tractor Co. websites are the property of their respective trademark holders. None of these trademark holders are affiliated with Yesterday's Tractor Co., our products, or our website nor are we sponsored by them. John Deere and its logos are the registered trademarks of the John Deere Corporation. Agco, Agco Allis, White, Massey Ferguson and their logos are the registered trademarks of AGCO Corporation. Case, Case-IH, Farmall, International Harvester, New Holland and their logos are registered trademarks of CNH Global N.V.

Yesterday's Tractors - Antique Tractor Headquarters