Tractor Talk Discussion Board
Happy birthday to my new truck
---
[ Expand ] [ View Replies ] [ Add a Reply ] [ Return to Forum ]
---
Posted by jon f mn on January 19, 2014 at 20:00:18 from (70.197.209.154):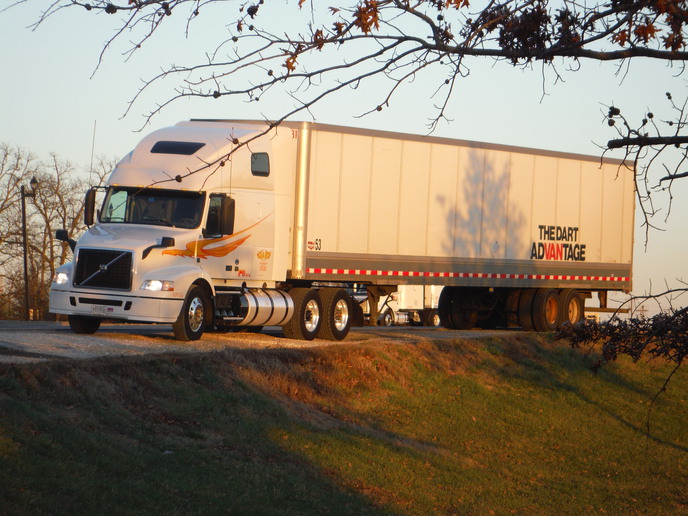 Hauled my first load 1 year ago today in my not new anymore truck. Here's a pic of it that made it into the Dart calendar. For those that are interested I thought I would give a report on how it's working out so far. First the specs. I got 137,687.1 miles as of today, with 122,094 paid miles. I've used 18,466 gal. of fuel for an average mpg of 7.45 mpg. That's a bit less than what I budgeted for at 7.5 mpg and a little disappointing since I was hoping for over 8 mpg. I will be doing some changes to the computer this year to try to bring that up.
The engine has been good. If you remember I was disappointed to find it had an 11 litre when Dart told me it would have the 13 litre. This engine really pulls good tho, it will out pull a lot of other trucks on the road in the hills and mountains. That is because it is rated at 1600 pound feet of torque, the same as the 13L. At only 385hp tho it's not going to win any speed trials. She cruises good at 65mph, will do 70mph pretty well, but struggles at 75mph. That makes sense since torque pulls the load and hp makes the speed. Had a few problems along the way with the engine starting with a major recall from Volvo for fuel injectors. When they pulled the injectors they found a bad head and EGR and the oil pan was wrong so it hit the front axle, so all that was replaced. The bill came to over $12,000.00 so I'm glad I didn't have to pay that one. Had a couple other problems too, batteries went bad at 112,000 miles, just after the warranty was off on them, that ticked me off a bit. Also had the problem with the air dryer, also after that was off warranty. That was a lot bigger problem than it had to be because of the dealer tho. Over all I like the engine and since I don't normally drive fast don't see a need for more. My only concern now will be longevity, generally larger engines last longer. Guess we'll see about that.
The trany is a work of art!!! That's about all I can say about that. It shifts smoother both up and down than I can, or anyone I've ever ridden with either. Unless you are paying particular attention you miss a lot of shifts. It's like it reads your mind and anticipates what you want. When I first got it I would reach for the shifter only to have it do what I wanted anyway. I can see why so many companies with company drivers are going to these. You can't do harm to them. You can't drop or burn the clutch, it won't grind the gears, it's always in the right gear for the best fuel milage. It senses the load and will skip gears both up and down to limit shifting and RPM's to maximize fuel milage. It has been trouble free so far. If it has any shortcomings it would be that it needs another lower gear for this high gear ratio rear end. If you have a heavy load and need to start out going up hill it really stresses the truck out more than I like. I called Volvo on this and they said they knew it was marginal, but that it was made to take it and that you need to just floor the truck and let it do it's thing. That is better than taking it easy and heating things up. If you do that it goes ok, but it takes some getting used to. If I had my choice I would also add manual shifting to it. This is an option that Dart didn't get, and I understand why. Most drivers wouldn't leave it alone and that would hurt the milage, especially for the company drivers. It would cost $750.00 to upgrade it and I may do that. The only time it would be nice is when pulling mountains because it pulls down to 1100 rpm's before it shifts down and you would hold more speed if it shifted at say 1200 or 1250 rpm's. Over all I love the trany and wouldn't go back to manual if I can help it. My opinion of that might change too after it gets some years on it and starts having problems.
The super single tires have been good so far. For me none of the things people complain about have come to be. I haven't noticed any extra problems on slippery roads or in the rain. They seem to be wearing well too. The drive axle tires look like they will last on that axle to about 150,000 miles or more which is better than most single drive trucks get even with duals. They tag tires show almost no wear, so I will rotate them to the drive axle when the others are about gone. That should give me 300,000 or more miles for the set, which is about what I got from duals. The steers are still on, which is 37,000 miles more than I've ever gotten on steers before. They still show no evidence of cupping or any other abnormal wear and it looks like I'll get 200,000 miles on them. I don't know if that's because it's a good truck or the Michelin tires, but that is a big cost savings for me. The only problem I have seen with the tires, and it happened with both the drives and steers, is that they loose chunks of rubber for some reason, BIG chunks. It doesn't seem to affect the wear or performance, but it does happen.
I like the suspension too. This truck rides as nice as any truck I've ever driven and is also stable on the road. No hunting the cracks or wandering. The other nice riding trucks I've been in would wander a lot. I don't know if that's the suspension or the super single tires tho. Where this suspension really shines is on slippery roads. It senses slip well before I can and it dumps most of the air in the tag putting more weight on the drive for traction. If that is not enough it has a locking dif. and it locks that. I've been on some REALLY bad roads this year and I've been able to go when others couldn't. It's kind of fun to watch the dash and see how often the traction control and anti lock come on. I never realized how much I was sliding around before. There have been several times when twin screw trucks couldn't hold the road or get moving on ice that I have been able to. What it is not is an off road truck. This thing will easily get stuck in the dirt, especially sand. I've been stuck twice in my driveway and I never even realized it was sandy. LOL This truck will never retire to hauling gravel or as a farm truck.
So here's the sum total as I see it. I like the truck. Mostly it does what I want. If I was buying one as I liked I would do most things the same. I would probly go with the 13L engine, mostly for resale and because I think it would last longer. I would definnately go for the auto shift tranny. I would also buy the super singles again. On the suspension it would depend on long term goals. If I was going to keep the truck a long time and retire it to something else then I would go twin srew, if not I would go with the single drive and tag. Personally I would go with the longer, mid roof sleeper. This one is the condo, or tall sleeper. I like the storage, but a lot of it is high and hard to reach, and it makes it harder to retire it to something else.
So that's it. Hope I didn't bore you and I apologise for the long post.


---
---
Fast Shipping! Most of our stocked parts ship within 24 hours (M-Th). Expedited shipping available, just call! Most prices for parts and manuals are below our competitors. Compare our super low shipping rates! We have the parts you need to repair your tractor. We are a company you can trust and have generous return policies. Shop Online Today or call our friendly sales staff toll free (800) 853-2651. [ About Us ]
Home | Forums
Copyright © 1997-2018 Yesterday's Tractor Co.


All Rights Reserved. Reproduction of any part of this website, including design and content, without written permission is strictly prohibited. Trade Marks and Trade Names contained and used in this Website are those of others, and are used in this Website in a descriptive sense to refer to the products of others. Use of this Web site constitutes acceptance of our User Agreement and Privacy Policy

TRADEMARK DISCLAIMER: Tradenames and Trademarks referred to within Yesterday's Tractor Co. products and within the Yesterday's Tractor Co. websites are the property of their respective trademark holders. None of these trademark holders are affiliated with Yesterday's Tractor Co., our products, or our website nor are we sponsored by them. John Deere and its logos are the registered trademarks of the John Deere Corporation. Agco, Agco Allis, White, Massey Ferguson and their logos are the registered trademarks of AGCO Corporation. Case, Case-IH, Farmall, International Harvester, New Holland and their logos are registered trademarks of CNH Global N.V.

Yesterday's Tractors - Antique Tractor Headquarters