Tractor Talk Discussion Board
Re: Government farm payments!!!
---
[ Expand ] [ View Replies ] [ Add a Reply ] [ Return to Forum ]
---
Posted by Billy NY on October 10, 2012 at 13:57:14 from (24.29.79.122):
In Reply to: Government farm payments!!! posted by JDseller on October 10, 2012 at 09:19:39:
Its interesting, I can't comment much, as I don't know much about it. I see my long time neighbor/farmer is not on that list. He was always smart (some people say tight) with a buck, made a paycheck with farming, never really outgrew his means. I'll bet any liquidity he has now was from land sales in the past, and whatever could have been retained in the marginal profits over the years, boy I sure wish he could have gotten in in the higher corn in the last few years, after how many years of walking a fine line of profit.
Like you JD Seller, he started small, he worked with his father in farming, and at a certain point had several jobs besides the farm when he was young. Theres a black and white photo on their kitchen wall, JD 420 with a pull behind JD combine, harvesting oats, even his dad doubted the success, as it was financed, he did custom work, his own, not sure of all the details but it was humble beginnings, but he paid for everything and was profitable, maybe not by much either. Later on, he grew slowly, probably had 150 head at peak, several hundred acres in ground, rented or owned, and almost late model tractors, equipment, not sure how much or what if anything was bought new, he always made it work financially, 3 sons and a daughter to raise. 20 years back a devastating fire, arson, almost ruined him, and it had something to do with the walmart being proposed on an adjacent farm that I used to enjoy seeing from the hillside out of my kitchen window, silos dotted the horizon, now its a parking lot, he did not have enough insurance, town would not even allow a benefit to be held to help raise money, (shows how much a farmer is appreciated) Just prior to that he had expanded as the adjacent farmer sold some equipment to him, lost that in the fire and though he was strictly a JD guy, he had many other brands on the job as well, I distinctly remember his Case 311 (round nose- was odd looking as it literally was the only Case around here, I liked it, think that burnt too) he had a nice shop and so on. I watched all of it burn, livestock, tractor, shop, dairy barn, silos spewing flammable vapors from the intense heat, I could not get within hundreds of feet. It was devastating to me, I could not imagine what was going to be the result of this. That just gives you some scale of one kind of hardship on one individual.
Oh and here is what it looked like from my house, like a plane went down, thick black smoke: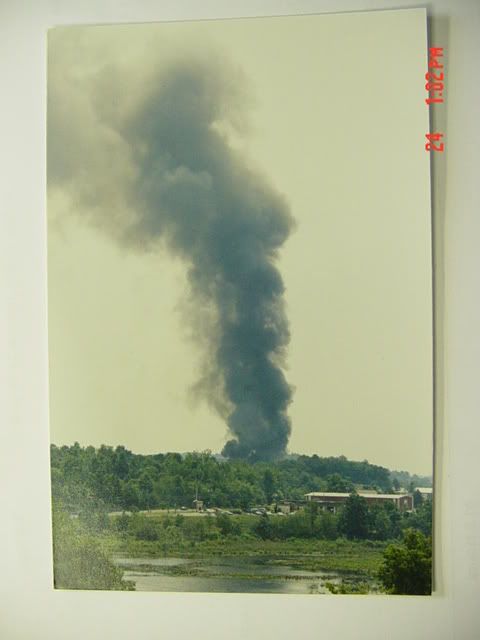 He made it over that huge obstacle, and around '08 for the first time bought several new pieces and a nice late model tractor, after all these years I think he deserved it, then health issues cropped up, I was available and helped whenever he needed me, even took some flak at my other job, which resulted in a physical altercation with a loud mouth, he ended up in the dirt with a tired, angry s.o.b.(me) at his throat with a framing hammer, things get tough sometimes and really tries a persons patience, and though I'm far removed, my part at times was not easy given the work hours I kept, leaves a short fuse.
Its a similar model that many farmers have chose, and why those may still be around without government assistance. Not saying its a bad thing, maybe it is, being honest I do not know, but I've always admired this farm since I was very young.
Like I said I cannot comment, don't know much about it, but I do not like tax money being misused (not saying it is in this case), larger operators around here are all on the list. I think one the biggest concerns I have with the politicians is the use of our tax money, that alone irritates me to no end, and likely most who are honest with other folks money when entrusted with it. Had best leave it at that.


---
---
Fast Shipping! Most of our stocked parts ship within 24 hours (M-Th). Expedited shipping available, just call! Most prices for parts and manuals are below our competitors. Compare our super low shipping rates! We have the parts you need to repair your tractor. We are a company you can trust and have generous return policies. Shop Online Today or call our friendly sales staff toll free (800) 853-2651. [ About Us ]
Home | Forums
Copyright © 1997-2016 Yesterday's Tractor Co.


All Rights Reserved. Reproduction of any part of this website, including design and content, without written permission is strictly prohibited. Trade Marks and Trade Names contained and used in this Website are those of others, and are used in this Website in a descriptive sense to refer to the products of others. Use of this Web site constitutes acceptance of our User Agreement and Privacy Policy

TRADEMARK DISCLAIMER: Tradenames and Trademarks referred to within Yesterday's Tractor Co. products and within the Yesterday's Tractor Co. websites are the property of their respective trademark holders. None of these trademark holders are affiliated with Yesterday's Tractor Co., our products, or our website nor are we sponsored by them. John Deere and its logos are the registered trademarks of the John Deere Corporation. Agco, Agco Allis, White, Massey Ferguson and their logos are the registered trademarks of AGCO Corporation. Case, Case-IH, Farmall, International Harvester, New Holland and their logos are registered trademarks of CNH Global N.V.

Yesterday's Tractors - Antique Tractor Headquarters