Ford 9N, 2N & 8N Discussion Board
installed....
---
[ Expand ] [ View Replies ] [ Add a Reply ] [ Return to Forum ]
---
Posted by award on April 29, 2013 at 18:31:59 from (184.9.104.117):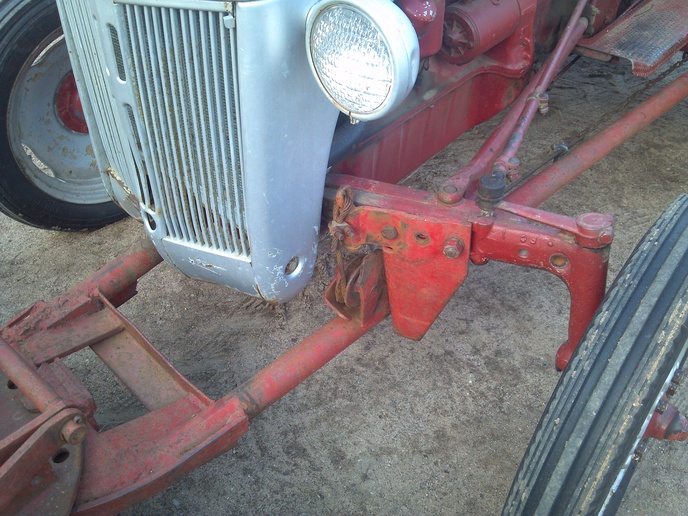 I got the snowplow on my 8n. Found out the subframe needs to be tilted to install as the pins are so da-gone wide. But...it fits. I see the front cable i-bolts are weled to the front brackets and upside...not even the part. I"ll cut the weld and get the correct stuff from fleet farm. I am also going to change out the cable/chain with new cable and DOUBLE cable clamps. Right now the plow comes up about 1.5" short of where it should be.
Big question here...I am wondering if the lift arm upper "bycycle handlebars" are even correct. The original photo that was posted of the parts diagram shows that both ends should be "in line" and these are hardly in line.
Took it out to the field and 3/4 of a rather large rock was buried in the field. A little 1st gear and upward movement pushed it right out of the ground. I took the front blade off now. Oh, the front blade rocks ALOT with the blade lifted. Does anyone know if that is normal or should I weld a block of steel on each side so it takes some of that away?
A little harder to steer but I think I am going to really like this setup.
One more thing...the engine was cutting out here and there. Was going up a rather large hill and she puttered out. Got it back home and set the base timing. It was really off but is now set correctly. What a difference that made!


---
---
Fast Shipping! Most of our stocked parts ship within 24 hours (M-Th). Expedited shipping available, just call! Most prices for parts and manuals are below our competitors. Compare our super low shipping rates! We have the parts you need to repair your tractor. We are a company you can trust and have generous return policies. Shop Online Today or call our friendly sales staff toll free (800) 853-2651. [ About Us ]
Home | Forums
Copyright © 1997-2018 Yesterday's Tractor Co.


All Rights Reserved. Reproduction of any part of this website, including design and content, without written permission is strictly prohibited. Trade Marks and Trade Names contained and used in this Website are those of others, and are used in this Website in a descriptive sense to refer to the products of others. Use of this Web site constitutes acceptance of our User Agreement and Privacy Policy

TRADEMARK DISCLAIMER: Tradenames and Trademarks referred to within Yesterday's Tractor Co. products and within the Yesterday's Tractor Co. websites are the property of their respective trademark holders. None of these trademark holders are affiliated with Yesterday's Tractor Co., our products, or our website nor are we sponsored by them. John Deere and its logos are the registered trademarks of the John Deere Corporation. Agco, Agco Allis, White, Massey Ferguson and their logos are the registered trademarks of AGCO Corporation. Case, Case-IH, Farmall, International Harvester, New Holland and their logos are registered trademarks of CNH Global N.V.

Yesterday's Tractors - Antique Tractor Headquarters