Ford Tractors Discussion Board
Re: King Kutter and 861 issue
---
[ Expand ] [ View Replies ] [ Add a Reply ] [ Return to Forum ]
---
Posted by maxwell99 on June 18, 2013 at 22:21:31 from (208.78.250.189):
In Reply to: King Kutter and 861 issue posted by cbrown9064 on June 18, 2013 at 21:14:47: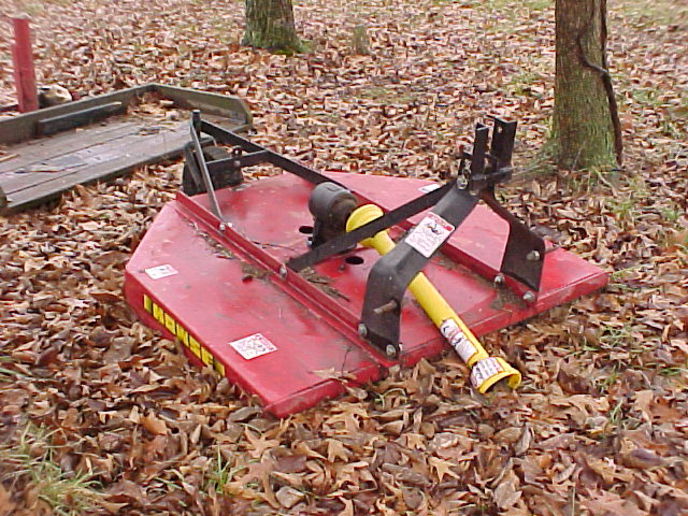 might try this
ky redneck solution
the bottom bolt that goes through the hitch frame. the one that goes through the front eyelet of the short flexible hitch connector.

get two longer bolts and try attaching your two lower arms to that bolt on each side.
this would be just a trial temporary connection, but see if the tractor would pick up the machine higher and give you better level control.
if so, then you must figure out how to make this connection point a Permanent connection point for the two lower arms.
I do not know if you can see it in the attached picture, but to make my old Howse cutter work properly on my TO-35 ferguson, I had to add about a 4-5" extention (higher) connection point) to the top connector of the cutter 3 pt hitch frame. this gave the cutter more rear lift as for some reason my tractor 3pt hitch would just not lift the rear of the machine high enough.
with out hitting the pto shaft on front edge of the cutter.
I also have to take off my straight bar hitch, I see yours is still on the tractor, when I use the cutter.
it will hit the pto shaft.
they make these cutters to fit most all tractors.
but our little ford/fergy's, the pto shaft is much lower on the tractor, than it is on other makes
AC, farmall, oliver, john deere, etc.
hope this helps some,
main thing, be careful and safe. you do not want to get hurt or tear up your new cutter.


---
---
Fast Shipping! Most of our stocked parts ship within 24 hours (M-Th). Expedited shipping available, just call! Most prices for parts and manuals are below our competitors. Compare our super low shipping rates! We have the parts you need to repair your tractor. We are a company you can trust and have generous return policies. Shop Online Today or call our friendly sales staff toll free (800) 853-2651. [ About Us ]
Home | Forums
Copyright © 1997-2018 Yesterday's Tractor Co.


All Rights Reserved. Reproduction of any part of this website, including design and content, without written permission is strictly prohibited. Trade Marks and Trade Names contained and used in this Website are those of others, and are used in this Website in a descriptive sense to refer to the products of others. Use of this Web site constitutes acceptance of our User Agreement and Privacy Policy

TRADEMARK DISCLAIMER: Tradenames and Trademarks referred to within Yesterday's Tractor Co. products and within the Yesterday's Tractor Co. websites are the property of their respective trademark holders. None of these trademark holders are affiliated with Yesterday's Tractor Co., our products, or our website nor are we sponsored by them. John Deere and its logos are the registered trademarks of the John Deere Corporation. Agco, Agco Allis, White, Massey Ferguson and their logos are the registered trademarks of AGCO Corporation. Case, Case-IH, Farmall, International Harvester, New Holland and their logos are registered trademarks of CNH Global N.V.

Yesterday's Tractors - Antique Tractor Headquarters