Crawlers, Dozers, Loaders & Backhoes Discussion Board
Clark Airborne crawler
---
[ Expand ] [ View Replies ] [ Add a Reply ] [ Return to Forum ]
---
Posted by Cindy Murdoch on August 17, 2013 at 11:54:22 from (184.100.60.73):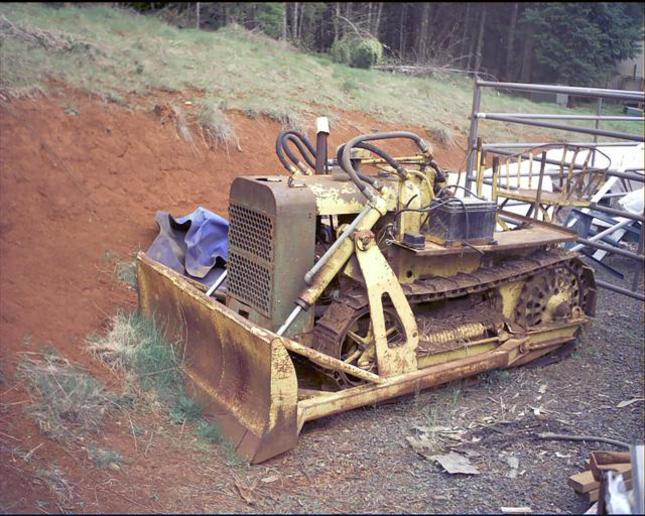 I posted a few years ago about a old WWII crawler we have. We"d like to sell it. It hadn"t run for 6 years so I wasn"t sure if it was still able to run. However, one of my farm hands has been tinkering with it and confirmed that it does still start up. It does need to be restored but is operational. I have lots of photos of almost every angle and have posted one below.
I"d like to confirm it is indeed a Clark Airborne before putting it up for sale and also find out what kind of price range I should be asking for it now that I can confirm it runs. I asked on this before and believe that"s what people decided it was, but it"s been a few years like I said and lots has happened in those years, so I"m not remembering everything like I should.
The treads are all good and move. There"s some rust, but I"m assuming that whoever bought it would be into restoring it to the condition they would want it to be in. It"s a regular gas operating crawler. Pretty small as you can see.
A little piece of history for someone.
If anyone has any input on exactly what kind of cat this is, I"d appreciate the info so I can sell it and tell people correctly about what I have here. The plate on the front is difficult to read because sometime in it"s lifetime someone decided this equipment should be yellow instead of green and painted over the tag. It does say it is from the USArmy Airborne division.
Thanks in advance for any help.
Cindy Murdoch
timberviewfarmOR@yahoo.com


---
---
Fast Shipping! Most of our stocked parts ship within 24 hours (M-Th). Expedited shipping available, just call! Most prices for parts and manuals are below our competitors. Compare our super low shipping rates! We have the parts you need to repair your tractor. We are a company you can trust and have generous return policies. Shop Online Today or call our friendly sales staff toll free (800) 853-2651. [ About Us ]
Home | Forums
Copyright © 1997-2018 Yesterday's Tractor Co.


All Rights Reserved. Reproduction of any part of this website, including design and content, without written permission is strictly prohibited. Trade Marks and Trade Names contained and used in this Website are those of others, and are used in this Website in a descriptive sense to refer to the products of others. Use of this Web site constitutes acceptance of our User Agreement and Privacy Policy

TRADEMARK DISCLAIMER: Tradenames and Trademarks referred to within Yesterday's Tractor Co. products and within the Yesterday's Tractor Co. websites are the property of their respective trademark holders. None of these trademark holders are affiliated with Yesterday's Tractor Co., our products, or our website nor are we sponsored by them. John Deere and its logos are the registered trademarks of the John Deere Corporation. Agco, Agco Allis, White, Massey Ferguson and their logos are the registered trademarks of AGCO Corporation. Case, Case-IH, Farmall, International Harvester, New Holland and their logos are registered trademarks of CNH Global N.V.

Yesterday's Tractors - Antique Tractor Headquarters