I've been saying for years that we got it wrong in this country. The loader should go over the drive tires like that because those wheels can better handle the load and it would maximize traction for pushing, especially for things like snow removal.
Local scalper has a allis WC that was turned around like that. I'm not the mechanic in the family but I'd rather do it to a Cockshutt, and he'd rather it on an International.
a couple clones: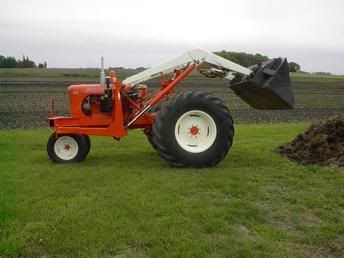 Boy I wished I had $2000 the day that 560 sold!
Honey Bees were great tractors I'm told. Turned super short, great tractor, more power than you'd expect for such a little rig. Used commonly in dry fertilizer plants. I'm told that they were a little easy to tip though, and probably shouldn't ever really be driven in road gear.
I still think I'd rather have a reversed loader with two-way hydraulics and a steering wheel than a skidloader for any task I can think of. And the neighbors would like it better because skidloaders tend to chew up the grass and a tractor wouldn't usually.