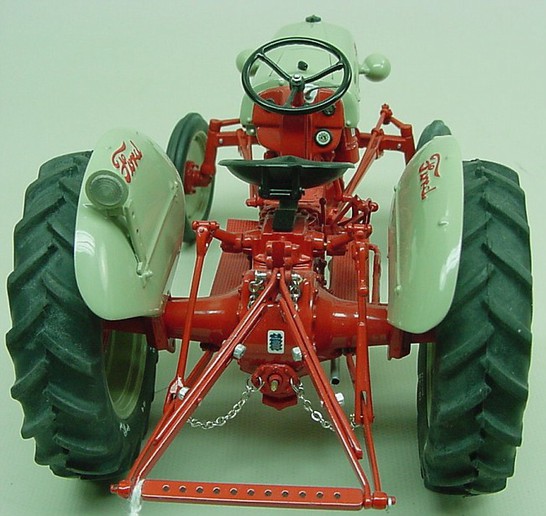 Larry I am not a big fan of 8N Fords to use for serious work. There are much better tractors for hard work for not much more money. It is just like I would not want to have to drive a Model "T" to work everyday either.
With that being said. As far as collecting I would not mind a Ford 8N in the shed. They at least had a foot clutch, wide front end, and three point hitch. Those are the reasons hundreds of thousands of them where sold. Them and the Little Fergusons put tractors on the small farms just like the Model "T" put a car in the drive of the average working man.
So you have a nice little tractor that is in good shape. It is not worth that much money really with what things cost today. I bet that your fellow workers have much more wrapped up in a motorcycle or fishing boat.
So keep it and just think of ways to use it more often.
Here is an idea for you. Put the cross draw bar in the hitch with the top link braces like in the picture. Then run two 2 x 8 oak boards over the draw bar and then under the rear axle housing. Let them stick back 4 foot or so behind the braw bar. Then nail some inch planks across the 2 x 8s. Make them the width of the tractor. Now you have a simple little carry all.
My Grand Dad had one like that for his TO-30. He had a large garden like you do. He cultivated it with the TO-30. So the tire spacing was correct to drive down the rows. So with his carry all on he could go right down the rows in his garden and haul the bounty he raised right out of the garden with it.
I think you would get a lot of use out of a carry all like that and then just leave it on the 8N. So when you needed it you where ready to go. Would not need the trailer for the smaller stuff then.
Enjoy the little tractor!!! I bet that you can remember those little tractors being on a lot of the farms when you where a kid. I do.