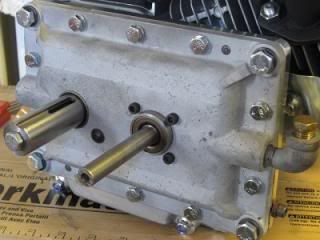 Yes, the two main applications for the double PTO shaft engines, seem to be on many of the older snow blowers and tillers.
I built my original prototype for the HF 6.5 hp 212cc Predator engine, because it is a popular replacement for the old single shaft Tecumsehs.
I wanted to see if I could create a two shaft version to cover the ones that used the 2 shaft set-up. I had used a thinner side cover, due to the shorter output shaft, on the 212cc engine. It was an oil pan from a Wisconsin engine.
My prototype for the 212cc engine became obsolete, before I ever tried it out. I discovered a way to adapt the wider H-60 side cover to the Predator 212cc, while building the one for the longer shaft 346cc engine in the first post.
Here is the prototype, that I made for the 212cc engine.--- John