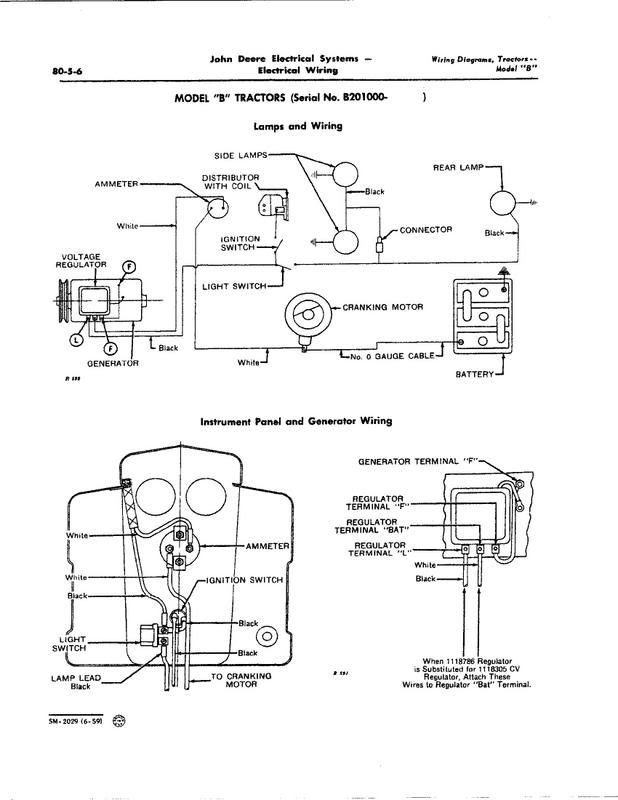 Okay if when you shut it down she draws a heavy discharge current, the cutout relay (inside of and a part of the Voltage Regulator between its ARM/GEN and BAT terminals) may be sticking closed, in fact if the belt were loosened the genny would sit there and run like the DC motor it is. That will discharge the battery plus make the genny hot. Its supposed to open when the tractor is shut down and close once the genny is turning and is producing sufficient voltage.
The tractor originally had a 4 (NOT 3) terminal Voltage Regulator with BAT LOAD FLD and GEN/ARM terminals with GEN/ARM off on one side or underneath all by itself. They wire:
BAT to load side of ammeter LOAD feeds hot battery voltage up to the light switch FLD wires to gennys FLD post ARM/GEN wires to gennys ARM post
If its really a 3 wire VR
BAT to load side of ammeter GEN/ARM to gennys ARM post FLD to gennys FLD post
On the older systems that used a simple 2 wire Cutout Relay (BAT and GEN) with no 3 or 4 terminal VR, the gennys FLD post wired to a Low/High Charge manual light switch which could be set for low or high charge. On the new systems with a VR the light switch controlled lights only but NOT charge rate.
If she cranks slow Id remove, clean and wire brush and re attach each and every battery and starter and ground cable and for 6 volt systems I prefer 0 better yet 00 Gauge cables for better cranking PLUS a high CCA heavy duty battery. Also a good ground to the frame versus a thin wimpy sheet metal seat box is better. CHECK THE GROUND CABLE AND THE REST OF THE BATTERY AND STARTER AND CABLES AND AT THE BATTERY
John T