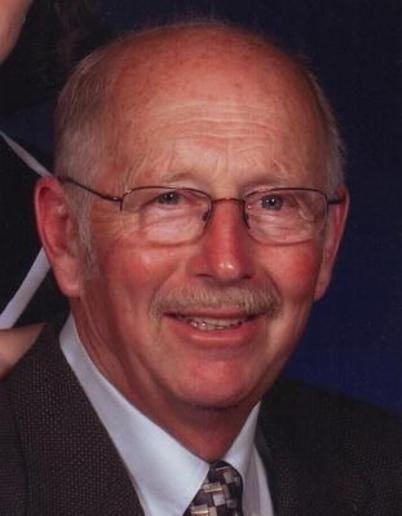 Anhalt, James J.
James J. Anhalt, age 69, of 807 E. State Highway 310, Manitowoc, died peacefully early Saturday morning, February 15, 2014 at his residence.
Jim was born March 14, 1944 in Two Rivers, son of the late Joseph and Marie (Kocourek) Anhalt. He attended St. Mark's Catholic Grade School and Washington High School in Two Rivers, graduating with the class of 1963. He was also a graduate of the Vocational School Farm Training Course in Mishicot. On October 9, 1965, Jim married Carole G. Bolzenthal at St. Mark's Catholic Church, Two Rivers. He was employed at Formrite Tube Company in Two Rivers for 5 years, 3 months, and 3 days, prior to establishing the Homestead Range Dairy Farm with his wife in 1967. He liked farming so much that he didn't consider working on the farm "work". The farm was a gathering place for many farm and family events, especially that family bonding time - also known as "baling hay". Jim believed in educating the public about dairy farming, and with the help of family, hosted World Wide Country Tours and tours for his grandchildren's grade school classes. Jim was a member of St. Peter the Fisherman Catholic Church in Two Rivers where he served on the parish council, and was parish trustee and an usher. He liked tractors; restoring old ones, going to tractor shows & collecting toy tractors. His shop was a warm place to be during winter. He spent many hours on woodworking projects, and especially enjoyed making clocks for family members. He also liked driving his "53" Chevy, border collie puppies, traveling, and reading. While reading books and magazines, Jim collected many bits of philosophy that reflected his thinking. Jim tucked this one under his desk blotter, "Never be sad for what is over, just be glad that it was once yours".
Jim served six years with the Wisconsin Army National Guard; he was a member of Lakeshore Farm Management, Manitowoc County DHIA, Manitowoc County Holstein Assoc., Manitowoc County Farm Bureau; and served as supervisor of the Town of Manitowoc for 20 years.
Survivors include his wife, Carole; one son & daughter-in-law, Scott and Angela Anhalt; one daughter & son-in-law, Lori and Scott Engelbrecht, all of the town of Manitowoc; four grandchildren: Joseph Engelbrecht & fiancÚ, Brooke DeNoyer; Ashley, Alex & Crystal Anhalt; brothers & sisters include: Sr. Regina Anhalt, Fond du Lac, Dan and Mary Jo Anhalt, Menchalville, Sandra Jarosh, Manitowoc, Richard J. Anhalt, Taus, and Joseph Timothy Anhalt, Hollandtown; he is further survived by his godchildren: Wendy Skarivoda, William Anhalt, and Lisa Keil; sisters-in-law & brothers-in-law: Janet and Allen Haws, Two Rivers, Francis and Chris Bolzenthal, Francis Creek, JoAnn and Edwin Skarivoda, Manitowoc; and many nieces, nephews, cousins, other relatives and friends. In addition to his parents, he was also preceded in death by one granddaughter, Amy Engelbrecht; one brother, Floyd Anhalt; and his father-in-law & mother-in-law, Albert and Sylvia Bolzenthal.
Funeral services will be held at 11:00 a.m. Wednesday, February 19, 2014 at St. Peter the Fisherman Catholic Church, 3201 Mishicot Rd., Two Rivers. Officiating at the Mass of Christian Burial will be the Rev. Tom Reynebeau, with burial to take place in Holy Cross Cemetery, Two Rivers on a later date.
Friends may call at the Deja & Martin Funeral Chapels, 1506 18th St. Two Rivers, Tuesday evening, February 18, 2014, from 5:00 until 8:00 p.m. A parish prayer service will conclude the visitation at 8:00 p.m. Visitation will continue at the church Wednesday morning after 9:00 a.m. until the time of mass at 11:00 a.m.
Memorials in Jim's name will be directed to Roncalli High School or St. Peter the Fisherman Catholic Church.
The Anhalt family is grateful for the support, love & friendship of our family, friends and neighbors who were there for us through Jim's illness. The compassion and kindness extended is very much appreciated.
Published in Manitowoc Herald Times Reporter on Feb. 17, 2014