petertay said:
(quoted from post at 09:46:14 08/09/14) Thanks for for the replies. To answer any questions about the pump itself, I"d have to dig through receipts from two years ago. But I did buy it (online) from an ag pump dealer who sold it as the correct pump for the application.
The cylinders appear to be not original. They are three feet long with the rods being 1 5/8 inches diameter. The valves are of unknown origin. The whole system is cobbled together with the oil reservoir hanging out front of the radiator.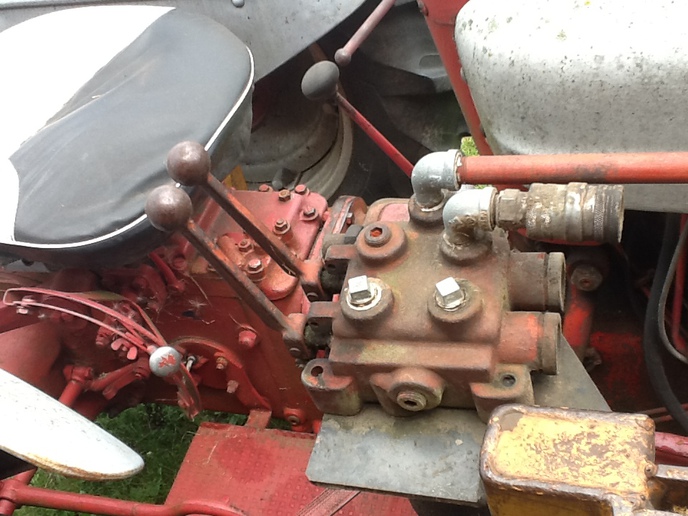 Your photo shows a valve with ONE connection. There is NO connection to any of the work ports or a return to the tank from the valve. What's up with that? I fail to see how that could possibly work in any fashion. There is no way to send oil to any cylinder or return oil to the tank.
Unless you have something mighty unusual in the way of hydraulic components the valve should be plumbed for open center operation. The RETURN port on the right side of the valve needs to be connected to the reservoir and the quick connect on the work port needs to be connected to the lift cylinder. That should work fine.
The "standard" operator convention for lift cylinders is to pull back on the lever to raise the loader and push forward to lower it. Your quick connect is in the forward work port which means yours would operate backwards to that - you would push forward to raise and pull back to lower. Move the quick connect to the rear port if you want the standard behavior.
IF you connected the lift cylinder to that valve as it is currently plumbed you would have dead headed pump pressure (3000+ PSI) behind the spool and I can easily imagine that the loader would raise very abruptly when you initially shifted the spool but without a return line there would be NO WAY to get it to lower????
You need to provide a COMPLETE description of ALL of the hydraulic connections as they are when the loader is behaving as you described. I think it is safe to say the problem is the plumbing - not the flow rate.
TOH
PS> Keep running that pump dead headed into that valve and you will QUICKLY need a new pump. Makes me suspect that was the fate that befell the original pump....
This post was edited by TheOldHokie at 03:57:34 08/10/14 4 times.