A couple of questions get asked from time to time about the different types of PTO.
So while I was working on a tractor here I thought I would snap a couple of photos and give some info on how they work.
We are all familiar with a tractor with transmission pto so I wont go into that type here.
There are two types of "live" pto.
Both are accomplished by means of dual input shafts into the transmission.

The outer, larger splined shaft is the pto input shaft.
The smaller one drives the transmission and rear wheels. This is the same on both "live" and "independent" ptos.
The difference is in the clutch. (And what lies behind the tranny which I wont go into here.)
This photo is of an independent pto clutch.
Notice the splined hub in the center.
This hub is rivited directly to the back of the pressure plate. So any time the engine is turning it is transmitting power to the outer input shaft, through the tranny to the pto.
Here is the back side of that same clutch.
On a "Live" PTO machine the dual input shafts are about the same. But the pressure plate contains TWO clutch discs. When you press the pedal down half way the main drive clutch disc is disconnected and the tractor stops forward motion.
But the pto continues to turn.
Then when you push the pedal all the way down the pto clutch disc is released and the pto also stops turning.
Here is a photo of a Live pto clutch with the two discs.
It is much more complicated than either transmission or independent pto clutches and thus considerably more expensive.
You can see the large hub in the pto disc.
Here is a photo of both types of clutches side by side.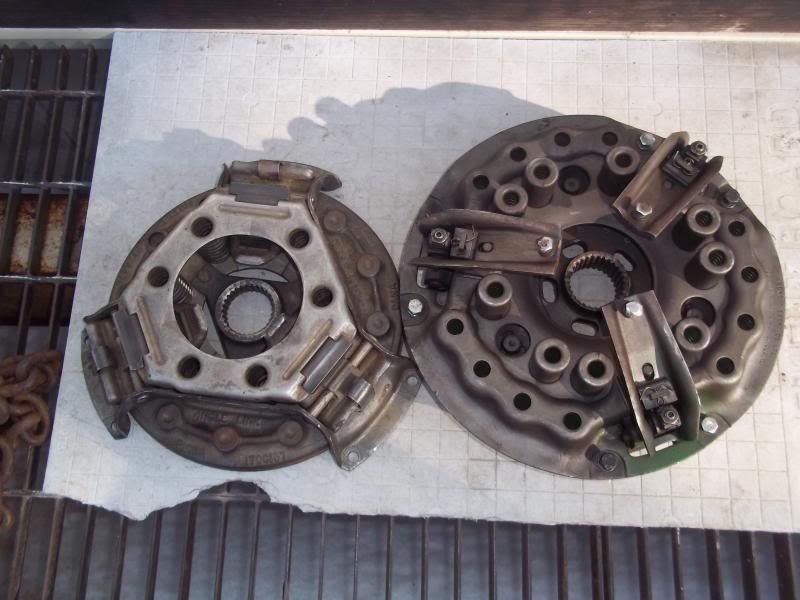 A lot of times people get these two types confused or maybe don't understand how they work so while I had the parts here I thought I'd make a post about it.