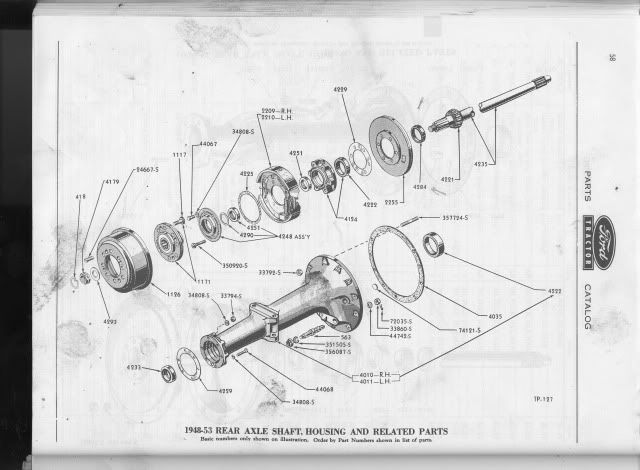 On what? It's always helpful to tell us what you are working on. That's because and fixing it will be different based on the model.
Assuming it's an 8N......
To get to it, you need to remove the axle trumpet. If you remove the left trumpet, you can do them both at the same time. It's held on by a castelated nut w/ a cotter key on the inside. Drain the fluid (see tips 3 & 4, below) Remove the left trumpet & slide the differential gear out. (an engine hoist is a good idea) Make sure the holes are not wallowed out or you will be in there again. I hear Loctite Quick Metal 660 Retaining Compound, Press Fit Repair.works.Or if the axle housing is really worn, you can use Loctite Fixmaster Fast Set Steel Epoxy, but I've never had the problem so I can't say for sure. Referring to the picture, the pin you need to replace is p/n 563. The hole which may be wallowed out is in the trumpet, p/n 4010 or 4011. The nut that holds the pin on (which is inside the differential housing) is p/n 33860-S. The cotter key is p/n 72035-S. Torque the nut on the new pin to 150 lbs before you put the cotter key in. Wipe the new trumpet gaskets w/ warm water until they are sufficiently pliable to stretch over the studs w/o breaking. Let them set a few minutes before you put them on. Make sure you use your favorite gasket sealer. Torque the 11 trumpet studs to 40 lbs.
And, beware of mission creep: the rear end is probably full of 50+ years of crude, so have some kerosene & rags ready to clean it out!