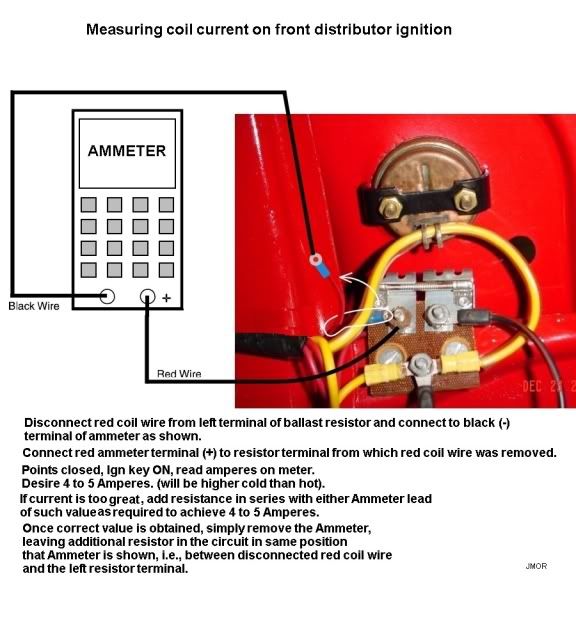 The short answer is yes.
The long answer is technology & materials being what they were in the 30's, that square coil would melt if it ran on much more than 4 amps for any length of time. (see tip # 38 for an example). In order to get a hot spark at the same time the starter was drawing max current from the battery, a ballast resistor was added in the ignition circuit. What that did was add about .3 ohms of resistance in the circuit, added to the 1.5 ohms of the coil. That got you 3.5 amps or so at start up. As the voltage increased when the engine was running to about 7.5 volts, the resistor heated up, adding more resistance in the circuit. 1.0 ohms hot, plus 1.5 ohms of the coil got you down to 3 amps or so to keep from melting the coil. The same rule (actually, Ohm's Law) applies to a 12v circuit. I= E/R. Current equals voltage divided by resistance.
It used to be before the "Land of Almost Right" started making coils that you could count on a 12v frontmount coil as having 3 ohms of internal resistance & the 6v coils as having 1.5 ohms or less. Thus, thanks to Ohm's Law, you could calculate what additional resistance you needed in the circuit to limit coil current to 3.5 amps. So, you will need to measure the internal resistance of that alleged 12v coil & see what it is. A digital multi-meter has two probes & a switch. Set the switch on resistance. Put one probe on the top of the coil & the other on the pigtail at the bottom. It will give you a reading in ohms. Lets just say it reads 3.0 ohms. Your OEM ballast resistor (which you must use) is about 1 ohm hot. A coil a 3.0 ohms, plus the ballast resistor at 1 ohm (hot) gives you 4.0 ohms resistance in the circuit. Your 12 volt alternator puts out 14.5 volts. You need to determine current (amps). 14.5 v divided by 4.0 ohms gets you 3.6 amps; that's ok. But, and this is the problem......what if the coil is only 2 ohms? Do the math. 14.5 volts divided by 3.0 ohms gets you 4.8 amps! Not good! And, if the coil is less than 2 ohms (and some are) it will fry quickly. So, to get it to 3.5 amps, you need another resistor in the circuit. Either that, or keep spare $30 coil around.
Or, you can not worry about measuring the resistance; just use an ammeter per the other picture & directions that JMOR put together.
Or, you can use the OEM ballast resistor & not worry about it.