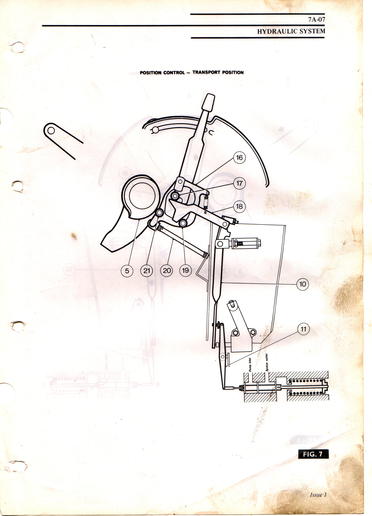 Hello,
There are several possibilities to cause your problem....simple and not-so. First of all, has the Position Control failed when no implement is attached?
If so, drain the oil to the level of the bottom bolt on the RH side cover. This is normally about 1.5 gals from full. Remove the cover. Refer to the attached diagram and you will see the vertical lever (10) and the pump lever (11).
With the engine 'off' and the 3-point down, move the Position Control lever slowly from fully lowered towards fully raised. As you do this you should observe the top of the pump lever move rearwards. With the PC lever fully raised, have an assistant lift the 3-point fully by hand. You should see the top of the pump lever now move forward to a roughly vertical position.
If you do not have either of these movements there is a problem in the linkage inside the hydraulic cover.
The first possibility is that the spring (between 17 and 18) has broken, rusted or become disconnected. The lever (18) is referred to as the 'dog' by its shape. Absence of the spring will prevent the 'dog' transmitting the correct commands to the pump lever.
Next, the circular frame in which the 'dog' runs can become bent and cause the lever not to engage on the rollers.
Next possibility although very rare is that the frame pivot can seize on its pin.
A good workshop manual is essential, preferably the genuine MF one to help you to understand how the system works and how to spot what might not be working.
As to the tools, most operations can be carried out without special tools by just following the manual. The special tools that you will need can be made if you have some basic workshop facilities.
If you do not have the pump lever movement it will be necessary to remove the hydraulic cover and for this you should follow the manual.
Hope this helps.
DavidP, South Wales