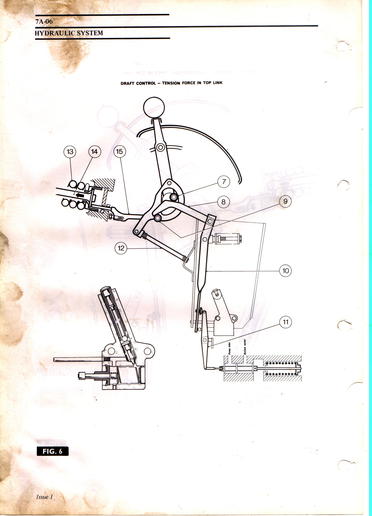 Hi,
The frame that I'm referring to is mounted on the underside of the hydraulic cover. It consists of cam levers running between rollers.
If you look at them you will see that they resemble a dog and a giraffe. You will see a circular shaped framework around the 'giraffe'. These do become bent.
I think that the next step would be to rig up a long bar so that you can simulate the compression force in the top link assembly as if you were ploughing. This way you can easily move from a compression to a tension situation as if the plough were being lifted from the ground. Drain the oil to the level of the bottom bolt on the RH side cover. Remove the cover if not already done. Have an assistant work the bar to activate the DRAFT mechanism. Try it at different positions of the DRAFT lever.
When activated the pump lever will move rearwards to lift the linkage. When the bar pressure is released the linkage should fall. If it continues to rise as appears to be the case then it would appear that something is sticking.
Check the frame rollers for any flats as this can cause problems. As a check on the pump you can move the pump lever by hand very cautiosly to ensure that there is no sticking in the control valve or the lever pivot.
See how you get on with these checks.
DavidP