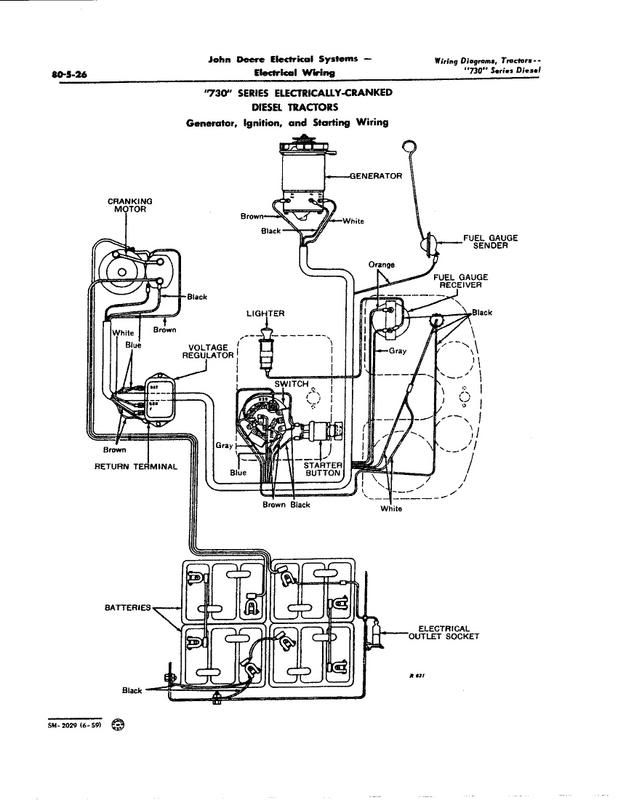 Hi Stan, for convenience I posted a wiring diagram which may or may not help??
Not being there I'm trying to visualize what your post says but that is a bit difficult so I will just discuss a few basics and maybe we can figure it out. Much of this you likely already know but no harm in stating it maybe it will help others or help you and I understand it. Lets discuss this n see where it takes us....GIVE ME SOME FEEDBACK
1) As you seem to be aware, that 24 volt portion and its devices (Starter and Generator) are two wire 24 volt isolated floating off frame ground devices and NOT POSITIVE GROUND as has been mistakenly (according to all John Deere diagrams and manuals and service bulletins and actual tractors at least) posted on this Forum.
2) Therefore, the starter must have TWO BIG POSTS not one and frame ground serves as the other like on a 6 or 12 volt tractor.
3) There is 24 volts from the POS of one battery and the NEG of the other (12 + 12 in series unless it has four sixes, same reasoning) so we have to get that 24 onto the 2 big starter posts BUT ONLY WHEN THE SOLENOID PULLS IN (connects its 2 big in and out terminals together)
4) Far as I'm aware, that starter, being an electromagnetic field type and NOT a permanent magnet starter, will still turn the same direction regardless of Polarity i.e. if the big battery cables were reversed it will still turn the same direction.
5) THEREFORE its my best educated guess NOT BEING THERE SO NO WARRANTY as long as one of the big battery cables wires to one of the starter posts, and the other gets to the other starter post ONLY VIA THE SOLENOID WHEN IT ACTIVATES AND CLOSES ITS CONTACTS IT WILL STILL WORK
IE YOU SHOULDNT HAVE TO REWIRE IT TO MATCH THE OLD, PROVIDED THE ABOVE RULES STILL APPLY... One starter post to one battery cable, the other big cable goes first to the solenoid then its output goes to the other big starter post THATS 24 VOLTS WHEN SOLENOID PULLS IN
6) NOTE AND CAVEAT However, if we have to take the Solenoids coil into account, remember its also a 2 wire 24 volt isolated off ground and floating device (Also NOT Positive Ground) and to work it needs (when starter button is depressed) the 2 big opposite polarity cable voltages (24 volts) to be applied to its 2 small terminals AND IF IT GETS ONE SIDE OF ITS POWER OFF A BIG CABLE TO THE STARTER, THE OTHER SMALL TERMINAL MUSTTTTTTTTTT BE RECEIVING ITS POWER OFF THE OTHER. Those A & B feeds are available up at the dash and all I'm saying is it needs to be the 24 volts that gets to the solenoids small activation terminals.
OTHER NOTES: I have attended electrical engineer/tech BuickandDeeres excellent 24 volt Seminar Workshops and consider him most knowledgeable on the 24 volt system HOPE HE CHIMES IN HERE. Pay attention to his inputs is my advice
ALSO I consider TxJim as very sharp on the Deere 24 volt system and HOPE HE ALSO CHIMES IN HERE. Also pay attention to his inputs.
For an accurate, comprehensive explanation and pictures and diagrams and testing and troubleshooting info available on the John Deere 24 volt system, I recommend you consult Official John Deere Publication Service Bulletin No. 268, written by John Deere NOT by myself or lay persons or non engineers. Don't take my word for any of this, see what John Deere has to say and look at their diagrams and manuals and testing tips.
AGAIN NO WARRANTY NOT BEING THERE, this may be right or it may be wrong Im NOT saying it is or it isn't, its only my best educated good faith attempt to answer your question, take or leave it at your own peril, but when all is said and done, Id trust in what John Deere has to say (Service Bulletin 268) instead of anyone else including myself an electrical engineer.
Best wishes, God Bless all of you
John T