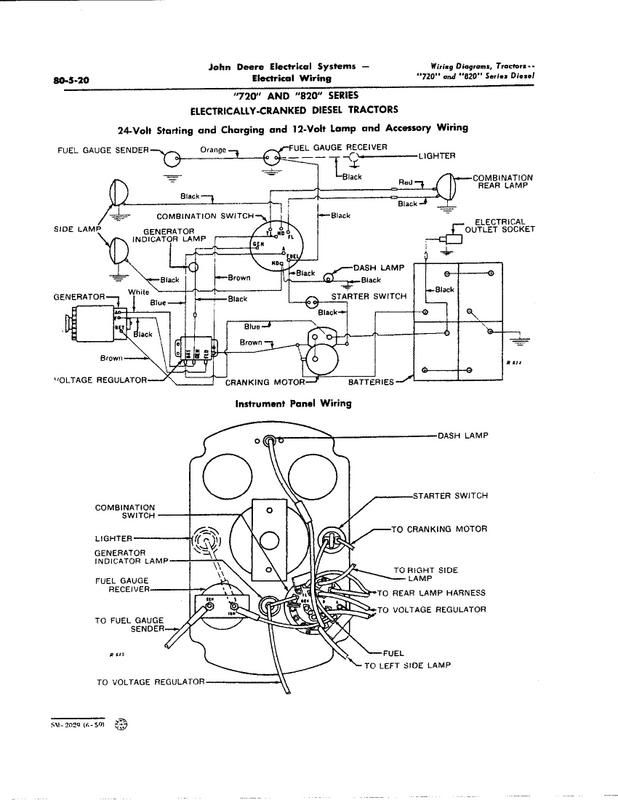 Thanks for your thoughts Tom, so good to hear from you and I know youre trying to help, as you said, youre indeed a kind gentleman I AGREE and youre a good friend.
HOWEVER I"m afraid youre mis leading some of the people here ESPECIALLY the non electrical trained lay persons and even if you spoke with the Electrical Engineering department at some university. (bet it wasnt Purdue University, thats NOT how they trained me)
YES all other JD two cylinder tractors 6 and 12 volt HAD THE POSITIVE BATTERY TERMINAL WIRED TO THE FRAME GROUND and thats why they were called POSITIVE GROUND. One of the battery posts, Pos or Neg, is tied to frame ground on those tractors
HOWEVER on the 24 volt system NEITHER OF THE OUTER UNTIED BATTERY TERMINALS + OR - ARE WIRED TO FRAME GROUND. The 24 volts which is present from + of one cable and - on the other IS NOT WIRED TO FRAME GROUND and if either were it would short out the battery yikessssssssss
A + or - battery post is NOT in the electrical industry referred to a ground, ITS ONLY if you bond one or the other to a tractor frame its then called POS or NEG ground. The 24 volts is ONLY post to post NOT either post to an unattached tractor frame ground......
On the 24 volt NEITHER of the outer untied battery posts are tied to frame ground,,,,,,The windings on the starter and genny (unlike on 6 or 12 volt) ARE NOT TIED TO FRAME GROUND,,,,,,,,Neither of the brushes (unlike on a 6/12 volt) ARE TIED TO FRAME GROUND.
SO THE 24 VOLT PORTION IS NOTTTTTTTTTTT POS OR NEG GROUND
Tom, do NOT feel bad if you dont get this, you claim your background is as a History professor and auto mechanics instructor, mine is an Electrical Engineer and my explanation agrees with the John Deere design and all their diagrams AND NO JD 24 VOLT DESIGNS OR DIAGRAMS SHOW THE 24 VOLT POSITIVE (or NEG for that matter) )TIED TO FRAME GROUND. However, the 6/12 volt diagrams DO SHOW THE POS TO FRAME GROUND and guess what!! They are called POS GROUND.
Can you show me a Deere drawing showing on the 24 volt side (outer untied 24 volt posts) EITHER Pos or NEG having a tie to FRAME GROUND????
So as a good friend we must agree to disagree Tom, until you can show a diagram to the contrary showing the starter or genny or its windings tied (either POS or NEG) to frame ground youre wrong calling the 24 volt POSITIVE GROUNDED and Im right lol. Please understand,,,,,,,,,,,the 24 volt starter and genny are NOT TIED TO FRAME GROUND (Neither the Pos or Neg) THEY ARE NOT POSITIVE GROUNDED
Hey Ive also made mistakes before but manned up and admitted it grrrrrrrr its no fun to eat crow is it? and we allllllllllll make mistakes so dont feel bad or dont take offense, Im only trying to help here NOT fight.
If Im wrong and the 24 volt IS POSITIVE GROUNDED TO FRAME I will kindly apologize IT WONT BE THE FIRST TIME EITHER GRRRRRRRR
May God Bless you Tom, hang in there and help out when you can, we could all use a little help now n then. I"m glad youre no longer banned or barred as you once stated you were
Best wishes
Your friend John T