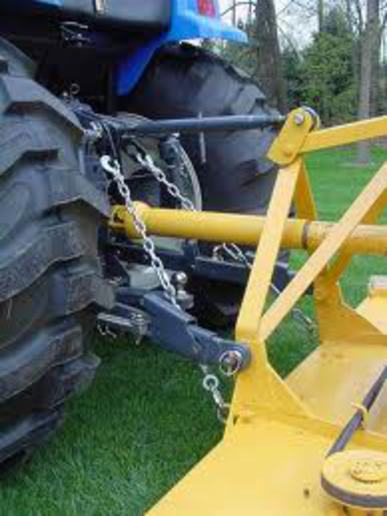 The first thing I would do is check the blades and see how dull they are. If they are not sharp then it will pull hard. Now you DO not sharpen a rotary cutter blade to a knife sharp edge. It will be dull the first time you hit some dirt/gravel. You sharpen the edge until it is maybe 1/16-1/8 thick at the front.
The second thing to do so you have the rotary cutter cutting the same height, it take two small chains and put them from the top link mount on the tractor to where the lift arms hook on the rotary cutter. I usually weld a piece of flat iron with a hole in it to fit the top link pin on one end and the three point pin on the other end, to the chain. So you end up with a chain with two irons to hook it to the two pins. You make the length of the chain be so that when your hitch is down, an the chains are tight, the front of your rotary cutter is where you want it. This way you can lift it when you want/need to and then just let it down to where the chains are tight and the height is back to where you want it.
Chains like this are an option with many grooming mowers. They come with a bracket that makes them adjustable.
The set in the picture are hooked to the mower but you can get the idea of how they work.
They also will stabilize the mower from moving side to side.