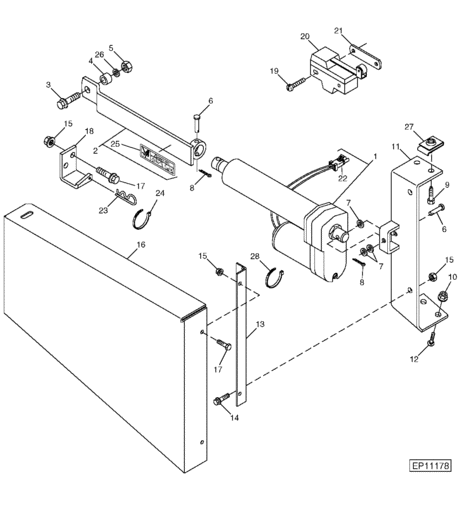 TX Jim: The bar/switch that tells you your out of mesh should tell you that the baler did not get mesh on it. This is only true if the mesh actually did not run. This switch is the little micro switch on the right side of the mesh wrap rolls. If you look a small "C" shaped channel runs across the baler. It pivots on two pins that are on one side of the channel. When the mesh wrap is cut it rubs across this channel. It swings because of this pressure. This motion trips the micro switch. If it does not swing the baler monitor should show no mesh alarm. I have had issues with hay/chaff getting behind this channel/bar and not working correctly. You just need to blow out the back side of it. Maybe lube the pivots.
The other thing that can be happening is that the mesh is getting wrapped around the top roll on the gate. I have trouble with this sometimes after the baler has set for a period of time. What happens is that the mesh wrap goes around the bale until it gets to the top where the belts change at the top two rollers. The mesh has to go across the gap from one roller to the next. Instead of going around the bale like it should it wraps the rear roller. If the wrap has a real ragged cut edge it will make this worse. Then the wrap will kind of pull off with the next bale but usually there is wrap around the ends/bearings. Clean the brush and check to see that the knife is sharp either can cause a too ragged cut edge.
If I get a non wrapped bale I stop and check right then. If it is wrapped on that top roll you can wipe out the bearings real fast. The wrap gets around them so tight I have had to take out the roll to get it off.
I also have two mirrors that look back at the baler. I can usually see with one of them if the bale has wrap on it. You can usually see the mesh between the belts or if you are looking in the pickup you can see that the hay is not dropping when it passes the throat opening.
Check the switch and check the rolls. If they are OK you more than likely have an operator issue.
The switch is number 20 in the picture.