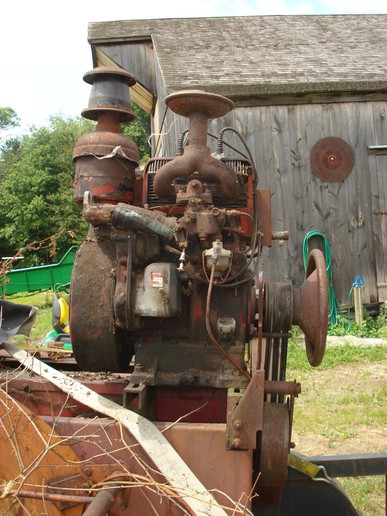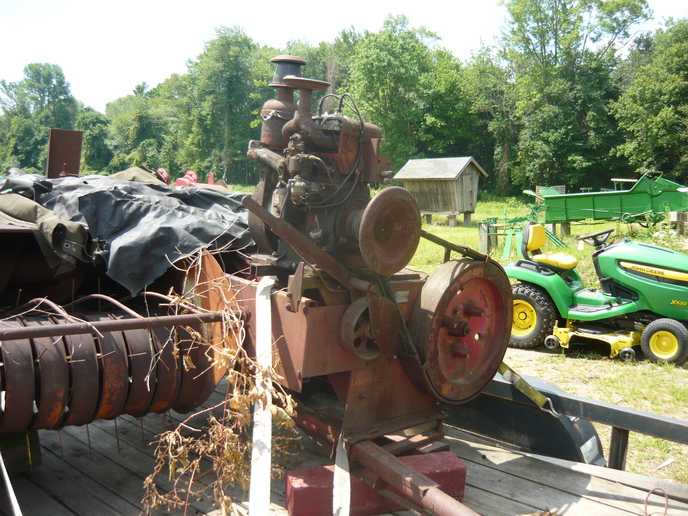 I'm pretty horrible with a camera, I constantly forget to take pictures till it's too late!!!
I do have a couple "before" pictures when we got it home -
we hope to go through the thing and repaint it all at some point - but we want to actually get it working first to be sure it's worth the effort, then restore it after the haying season.
She aint much to look at right now - but we'll get it to spit bales out soon enough. Lots of rust, but structurally sound.
Had the engine running, but the bearings are so worn I was worried about doing permanent damage, so we ripped it apart for a rebuild.
I found a clutch and shaft assembly and added that to the flywheel so we can run it by pto.
Again - IF it bales well enough, then I'll spend the money to rebuild the engine.
I do hope that happens, would love to get that engine back on in time to do some haying this season with it. Can't wait to hear it turning the baler.
The baler was donated to us, as well as some of the parts. (the pto clutch).
Leroy here was nice enough to donate the wheel for the hay pickup.
The 4H club itself (the mother ship, not our little club) just gave us a $300 grant to help restore it. That'll go right into machine work for the engine - bore it, valve job, probably replace babbit bearings with newer ones, etc.
Definitely a community effort on this one. With that in mind - I WILL get better at taking pictures!