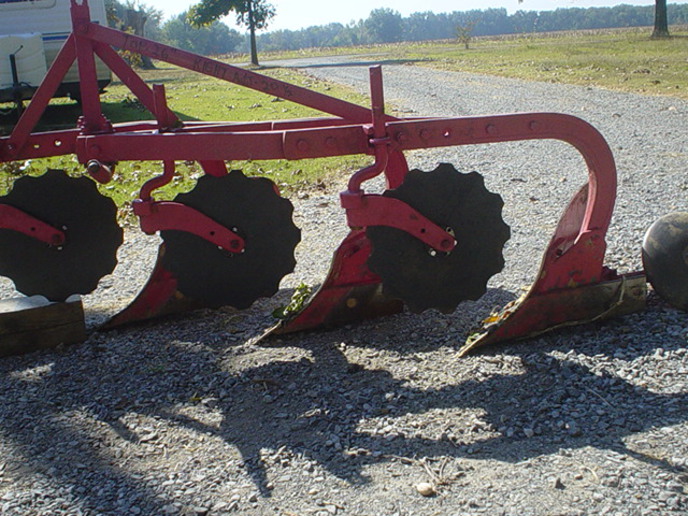 I looked up the old plow, it sure looks like a #62 Ferguson plow to me.
what's it worth, may not be $300, but small double plows are the most expensive plows you can buy for what you get. It looks to be built just like my #62 MF plow, they are good plows and you can still get parts for it.
if the points are good, it should go in the ground and plow your garden spots or truck patches.
coulters are missing and if you want coulters they will cost you big time.
might look around some more at other plows, but this a bad time of the year to be buying small farming tool, but a good time to be selling farm farming tools.
Note the frame work on my old MF #62 plow, it is a 3-12" plow, but has the same frame and crooked cross bar as the one you are looking at.
I sure would not want to take $300 for my plow.
buy the old plow, if it works good, clean and paint it up red, you will have a good plow that will do what you want.
tilt it over and feel along the front edge of the cutter points, if they are rounded off then the old plow will not go in the ground so good,
before you look at the plow, go to a tsc or somewhere that sells new plows and look/feel of the front cutter edge of their plows. this will give you a good feel of what you are to look for, also they may have new plow points in the store, you could look at one of them, feel the cutter edge.
also note the price of new points, if the old plow must have new points before it will plow properly, this only adds to the overall cost.
good luck,