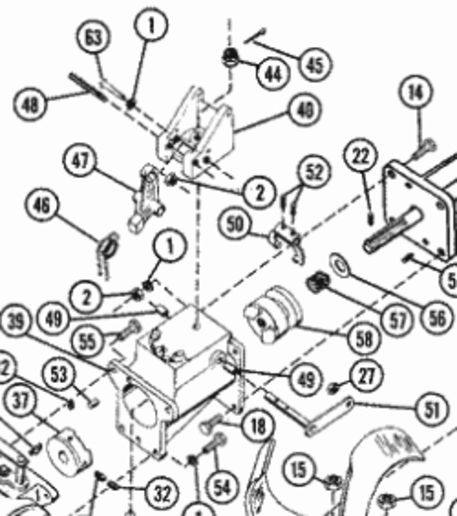 I need to replace the "Swivel Bolt" that holds the swivel assembly ("Handle Bar Bracket") for handle bars on an Ariens Rocket V tiller (sticker says Model 901005, Ser. #001820). I have removed the "tiller jaw clutch" so that I can get at the "clutch fork." I can feel/see the "roll pins" in the top of the clutch fork but can't see how I am going to be able to remove those roll pins? There isn't quite enough room on top to get a hold of them and there don't seem to be holes in the bottom of the clutch fork to drive them up and out.
Have any of you had to do this and how did you do it (get the roll pins out sou you can get the fork shaft out so you can get the broken bolt out and replaced)?
I see that later models solved this problem by attaching with bolts a steel plate on top of the Tine & Drive Assembly that bolts down the handle bar bracket (very easy to get to the swivel bolt on those model).