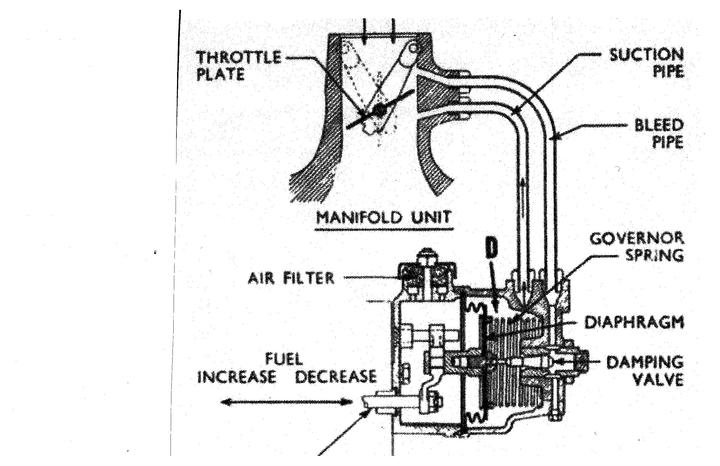 Hi, Thanks for your comments.
It"s a rubber diaphragm. I had the governor apart a couple of winters ago. Back then I found that the dampening valve had fallen off. I fixed it and put the governor back together. It doesn"t seem to be stiff because I can hand operate the fuel stop lever. When I disconnect the pneumatic tubes off of the governor, plug the two holes with my fingers and try to move the fuel stop lever back or to the left, I feel a lot of resistance. This tells me there are no air leaks. When I move the fuel stop lever back or to the left and then plug the holes with my fingers, the spring and diaphragm returns back to normal position. According to the manual this procedure tells me that the diaphragm is leaking air!!! I"m confused, It leaks air in one direction but not the other?
I"ve attached a diagram of the diaphragm unit. The part that I don"t understand is when you pull the throttle to give more gas you end up moving the butterfly valve closer to the closed position, which causes the engine to suck harder on the governor diaphragm. This action looks like it decreases the amount of fuel by moving the fuel control rod to the right. Isn"t it suppose to be increasing the fuel, not decreasing it? That"s the part that I don"t understand about the governor.
I am using the excess fuel button for cold start but it doesn"t make a difference.
I think I will try using a rad hose heater. I"ve been trying to avoid this because it"s a band aid approach, but I"m running out of ideas to try. I would rather like to use an engine block heater but I can"t find a location to put the engine block heater into. Anyone know where I can install an engine block heater?
four years ago this tractor started at -18 Celsius with only about 15 second of turning the engine over with no rad hose heater and not using the excess fuel button. Something changed and I can"t figure out what!
Thanks,
Nick