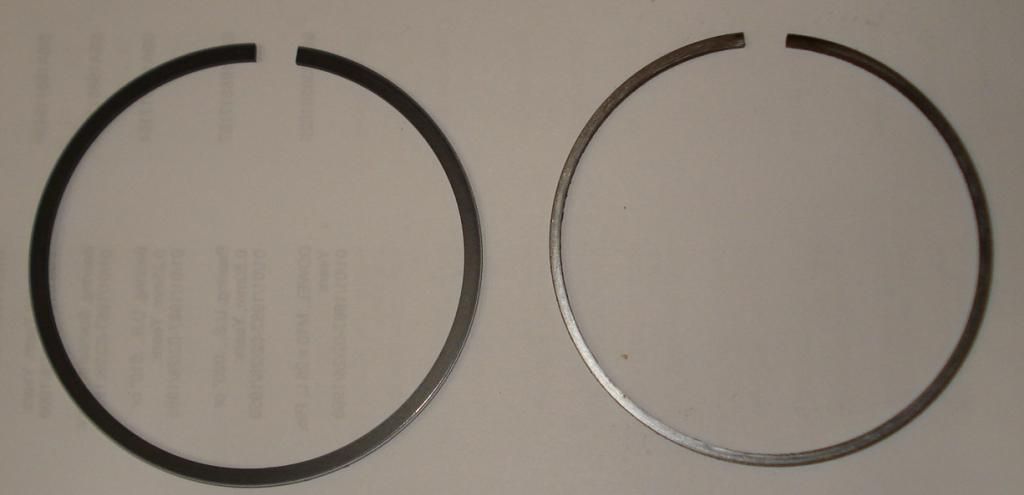 Neighbor bought a '98 2120 a few years back with 1600 hours. He said it always had some blowby, but got to the point where oil would stream from the breather hose. I drove it for a short ways, and the poor thing could hardly handle high range. We tore into it, and found the intake passages coated with oily dust. Pulled the engine apart all the way, and found piston rings worn more than I've ever seen before - the end gap must have been close to 1/4". The picture compares an old ring to a new ring. I can't believe it had enough compression to even run.
I never realized before quite how expensive Shibaura parts were either. Oversize pistons, rings, rod and main bearings, gasket set, two injectors, aftermarket water pump, aftermarket clutch and a few other parts were over $3500. Machine shop work to bore it out, resurface the flywheel and a valve job/head planing was $600 or so.
I inspected the air filter hosuing extra well for any cracks, but none were found. Since it came from a chicken farm originally, I assumed the air filter must have clogged & split at one time while cleaning the coops. When I went to put the new filter element in, I asked him for the wing nut that holds the filter down. He told me there was only ever one wingnut for the cover, none for the element itself! Someone must have forgotten the wingnut at some point, so for years the filter was free to slide back and forth in the housing and not really filter much at all. I think that was the worst point of the whole project for him - knowing a missing wingnut cost him over $4000. It runs like a champ now.