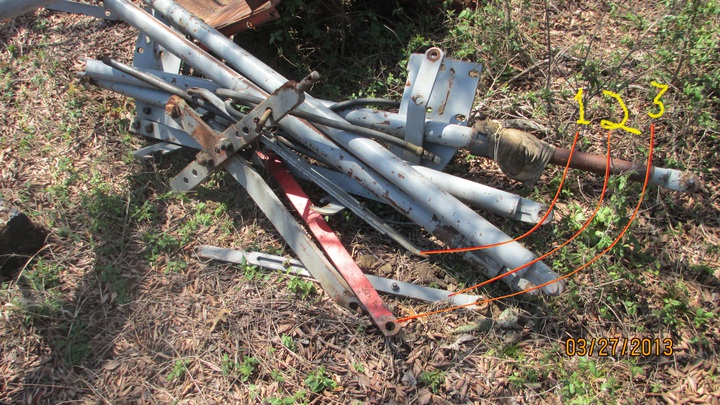 I posted this in 2 posts because I didn't want to confuse the Case with the Ferguson. Remember I have never used the Ferguson yet - this will be my first time. I always use a chain somewhere so the mower can ride between the lower arms and the tail wheel, yet raise it to clear an object.
(Side note Just looked out my window 6 deer eating a late breakfast :-) love them.)
Correct me when I am wrong - I am under the understanding that the lift arms on the Fergy will tend to drop after I raise them? if so then I would like to suspend them from up near the top link some where. The little chains beside the PTO don't look like they are must for controlling the sway of the lower arms. I have a pin on the left axle that would do fine for a sway stop (wish I had one on both sides then 2 chains would be great. Maybe another project.
Tony what I have for extras are (see picture) #1&2 I think there were to hold the draw bar stationary? #3 may be a sway link for the left lower link ? other wise on the tractor I have just a top link and 2 lower bars & the little chains that hook between the lower link and the lower bars. Like I said B4 I wish there was a pin on the right axle -then I couls use 2 stay chains.