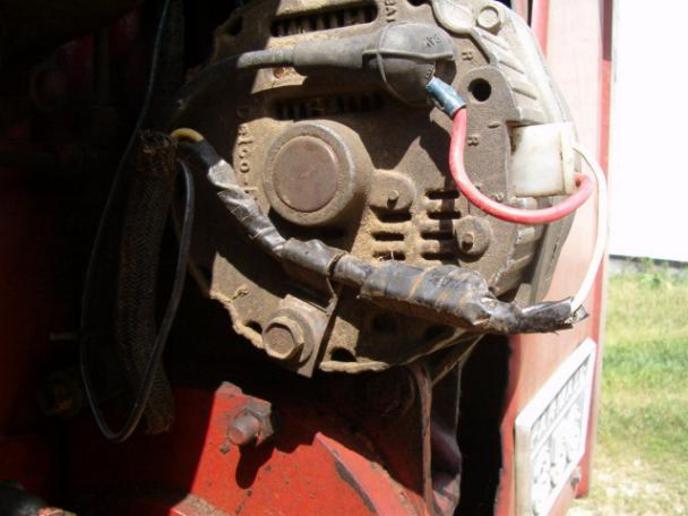 If your wiring harness is in good condition, there is no reason to cut it up to install a 10SI alternator. When doing a rebuild of my 856, which included $500 of new wiring harness. I was not about to cut anything up to convert from the stock external regulator 10DN alternator to a 10 SI type. I was able to simply adapt the wiring by removing the original external regulator( in the compartment down by your feet) and simply making a jumper wire to connect the outermost right and left regulator plug terminals.
To adapt the wiring at the new 10SI alternator, all that was necessary was to install an auto parts store harness repair plug designed for most any 74-84 GM product with 10 SI alternator. You attach a blade terminal to The white (#1)wire from the 10 SI alternator plug, and plug it into the F terminal of the tractors original harness alternator plug
Tape up this connection to protect it from weather or shorting. Connect the heavy red wire from the new alternators regulator plug using a ring terminal to attach it to the BAT stud on the alternator rear. This is all that needs to be done to adapt the original external regulators 10DN wiring to an internal regulator Delco 10 SI alternator. This will wire the tractor so the stock charge light will work with a ("1 wire") 10SI type alternator, or any standard 3 wire 10 SI alternator. The original IH charge light works with no other changes.
The attached picture is of the several year old conversion done to my 856. The lump where the white wire enters the harness is the original harness alternator plug still atached. No need to cut up the original harness. It adapts easily to the 10SI type alternator.