Honestly, I would not invest that amount of money into a hydraulic excavator of that era, based on the older less productive design, parts availability, slow travel speed and unknown undercarriage wear, the latter should be measured to determine its condition.
I know nothing of the manufacturer or model, and just enough about Cummins 555's to be dangerous, believe those are kind of obsolete, not sure what the parts support is for those now.
If the machine is in good working order, you need to be able to predict, not assume, the hours you can get out of it, any work you do with it will take a lot longer than a modern or semi modern excavator, they have come a long long way since those days. I would want to know what the weight of it is, because if something does go wrong, you can't repair, thats all its worth, may not be half of what the asking price is and it if it goes on your watch, you just took a match to thousands of dollars.
Maybe someone else will comment, that these, though old, were reliable, not hard to repair and have parts availability. That would help, but the price for a 30-40 year old machine, and I will bet its more on the 40 side, given it has a 555 in it.
For what you mention, its a common task to do some clean up or work at a farm, maybe not enough to justify owning, but a finite amount of work to be done 1 time or every few years. Something to consider when tying up money you could use for something else you need more.
In that case, $8500 for a modern excavator, on rental, will go a long way and you would be astonished as to fuel efficiency, productivity, operator comfort, and the power these machines have, I for one am amazed every single time I get the chance to run modern equipment, there is no comparison.
On the other hand, I am a fan of owning just the same, because if you need it, its there. Years ago my father had a fair amount of grading and some clearing, cleaning on the farm here, given the costs hired out, he found an old D7 Caterpillar, for the same price, did all the work and had it handy when or if needed, like when a tractor got stuck, remember my farmer friend burying a 100 hp size JD when I was a kid, in the adjacent field, he planted our ground here too, sure was nice to fire up that D7 and easily pull that tractor out, things like this, there are times you wish you did own, just something to consider.
In this case that D7 was not hard to source parts for, the peripheral components on it are not that hard to work on, track frames, final drives, bevel gear and so on yes, special tools etc., but it was a reliable well designed tractor in its era that can do hundreds if not thousands of hours, bought in working condition, it will likely outlive a farmer for the limited part time work it may see, resale value is good, and they used to be sourced very reasonably. Kinda my philosophy, don't mean to lecture, maybe babble on a bit LOL !!!!!!
In the photo below is a 2011 Case EX 70 (if I recall the model correctly), this little excavator picked up a 3'-0" x 20'-0" approx. red oak log, all of it off the ground, now that was definitely the limit, back end felt a little light, but for a machine this size, that is just unreal, I re-stacked a pile of logs with it, handled the heaviest, but smaller than described above with ease. There was a tall, say 80'-0"+ tree maybe just under 2'-0" dia., I reached in, and literally pulled this entire tree out of its precarious position, along our field, set it down, pulled it out and place it on top of the stack of logs. It digs fast and will pick large rocks easily, they are worth every penny of rental cost when work needs to be done.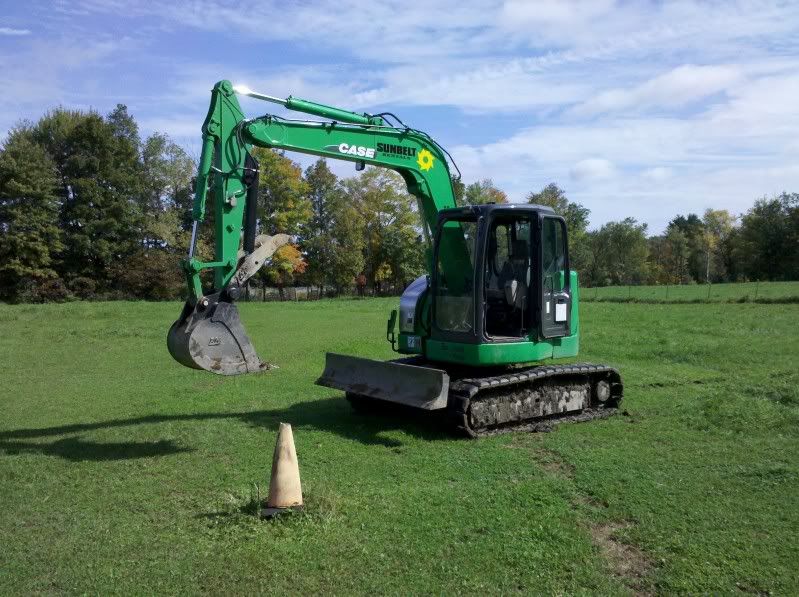 Fits in the barn for water line work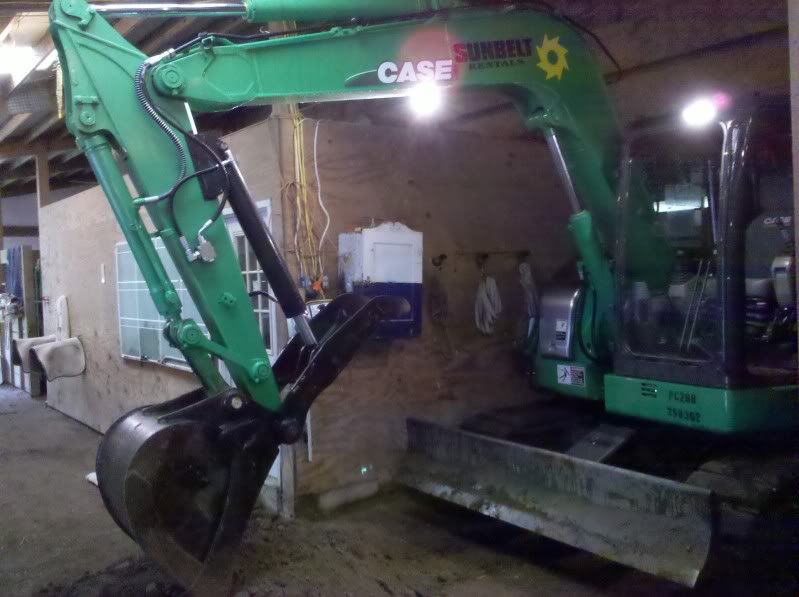 Picks rocks from the field, no more dinged up mower blades on this farm !